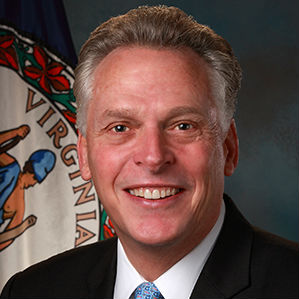 Governor Terry McAuliffe announced today that the Fiscal Year 2017-2018 budget he will introduce on December 17 will include a $2.43 billion bond package to support key capital projects that will enhance Virginia's technological research and economic development infrastructure.
The bond package represents the largest research-oriented capital investment in the Commonwealth's history as well as the largest state investment in Virginia's state parks.
The chief focus of the bond package will be strengthening research and workforce development in high-demand fields at Virginia's four-year institutions of higher education and community colleges.
The bond package will also include funding for other key priorities like strengthening the Port of Virginia, serving Virginia veterans, enhancing Virginia's state parks, transforming Virginia's approach to juvenile corrections and protecting the Commonwealth's natural assets.
Speaking at the Virginia Commonwealth University Medical Center, Governor McAuliffe said, "The bond package I will include in my budget will provide funding for targeted projects that will all contribute to our efforts to grow and diversify our Commonwealth's economy. If we are going to build a new Virginia economy, we must make smart investments in research, higher education, veterans, public safety, tourism and environmental stewardship that will yield returns for decades to come."
The details of the bond package included in Governor McAuliffe's budget are as follows:
Building 21st Century Research Infrastructure
$100 million over two years in competitive grants for research activities.
An additional $40 million over two years in cash incentives for research and matching funds to secure federal grant funding.
Funds will be directed to renovate research labs, purchase equipment and attract top talent to higher education institutions in Virginia.
The new resources also will provide incentives for public-private initiatives and establish centers for excellence at Virginia's public colleges and universities.
The goal of the research component of this initiative is to put Virginia on the map as the best place in the nation for entrepreneurs to start their businesses and design the next generation of revolutionary products.
Higher Education Research and Development
$849.6 million for projects at Virginia's four-year institutions, primarily supporting research, building classroom capacity in STEM-related fields and addressing campus infrastructure needs. That funding will support projects including: Virginia Commonwealth University: Consolidate the School of Allied Health Professions, and provide labs and research space for the School of Engineering, Virginia Tech: Add new engineering classrooms and fund new labs and medical research at the Virginia Tech Carilion Research Institute, Old Dominion University: Build a new chemistry, life science and oceanography building, University of Virginia: Renovate biology and chemistry facilities, Longwood University: Enhance the university's science, math, engineering and technology facilities.
$214 million for projects at Virginia community colleges, primarily building classroom capacity in the STEM-related fields, increasing classroom capacity for general education courses and addressing campus infrastructure needs, including: John Tyler Community College: Expand health professions, science and workforce programs, Blue Ridge Community College: Enhance biotechnology and bio-informatics programs, Lord Fairfax Community College: Expand science, health and cyber programs.
Strengthening the Port of Virginia
$350 million for the Port Authority to enhance the capacity and operations at Norfolk International Terminals, providing for the anticipated growth in cargo resulting from the widening of the Panama Canal.
Supporting Virginia State Parks
$140 million for state parks, including funding to fully develop the previously created Biscuit Run and Widewater state parks, and provide enhancements and repairs at parks statewide.
Standing up for Virginia Veterans
$29.3 million to allow for the full construction of a second veteran's care center previously approved for planning by the General Assembly.
$4.7 million to allow for the full construction of the previously approved Virginia War Memorial expansion capital project.
Keeping Virginia Communities Safe
$90.5 million to build two new juvenile correctional centers to allow juveniles to be closer to home to enhance family interaction.
$135 million to expand the central region Forensics' and Medical Examiner's laboratory to address a growing body of evidence to process.
$40 million to renovate a prison, replace roofs, and replace emergency generators.
$110.4 million to expand Virginia's sexually violent predator facility to address the growing population.
Protecting Virginia's Natural Assets
$59 million for improvements and upgrades to local wastewater treatment systems as part of the nutrient reduction strategy to clean up the Chesapeake Bay.
Governor McAuliffe will present his budget to the money committees of the Virginia General Assembly on December 17th. The Governor's budget is focused entirely on making smart investments in initiatives that will directly impact his administration's efforts to grow and diversify Virginia's economy.
For a full list of projects included in the Governor's bond package, click here.