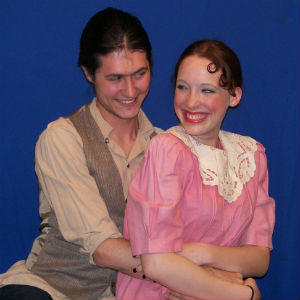 Mary Baldwin College continues the 2014-2015 arts season with the These Shining Lives, by Melanie Marnich.
The play is closely based on actual people and events of the 1920s, when women were first permitted to hold good paying factory jobs, rather than doing domestic work.  It reminds audiences of drastic limitations on women's jobs and other rights, and of the severe consequences of workplace hazards then disregarded. The play is directed by Dr. Virginia Francisco, former chair of the MBC theatre department, and produced by Professor Terry Southerington. It runs November 19-23, 2014. Performances Wednesday through Saturday are at 7:30 and Sunday at 2:00 in the Fletcher Collins Theatre, Deming Hall.
These Shining Lives is set in the 1920's and thirties outside Chicago, Illinois.  Four women are among the first nationally to hold factory jobs, at the Radium Dial Company, where women were paid to paint numbers on iridescent watch faces. The young, vivacious women are played by Tiffany Waters, Sara Beth Watkins, Bridget Burner, and Toni Thinnes.  They discover that in home life and at work, all that glows is not what it seems. The paint they use contains radium.  As radium poisoning sets in and their bodies begin to succumb, the sickest of them finally finds a lawyer who will take their case. James Cramer plays the attorney, and William Campbell completes the cast as Catherine's husband, Tom Donohue. Actors also play additional roles.
Tickets are $12 for adults, $7 for students of any school, and senior citizens. They may be bought with a credit card at 540-887-7189, Monday through Friday 10 am to 5 pm, or online at www.mbc.edu/theatre.   Patron parking is available in the college parking lot at the intersection of Kable Street and Deming Drive (off Prospect Street). For the convenience of patrons, shuttle service is available from the parking lot to the entrance of the theatre,  less than a block away, Please call in advance to reserve the shuttle.