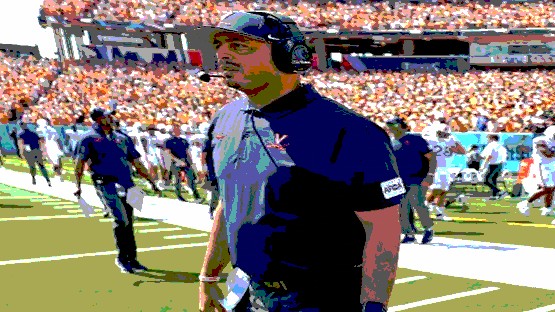 Who is this cocky and undersized #10 who replaced Tony Muskett? The offense is nonexistent. Probably will be most of the season.
Two quick questions for you.
Does Tony Elliott have any clue what he is doing?
Is it beyond the realm of possibility that this team could lose every game this year? I don't see more than two wins, and that's a maybe.
I can't imagine the additional schools Cal and Stanford bode well for recruiting either.
– B.P Hagen
---
More high heat from the readers, today, from our buddy, B.P.
Ahead of the questions, I generally really like the "undersized #10," Anthony Colandrea, but he struggled a bit in his mop-up duty on Saturday, and my hope for him is that we don't have to burn his redshirt, because he will be more valuable in Year 5 than he will be this year in Year 1.
First question: I assume Tony Elliott is a really good play-caller, because he was that at Clemson. I'm not sure he's a good head coach, which is an entirely different job.
In defense of Elliott and the person who hired him, Carla Williams, you don't really know if a guy who is a really good play-caller is going to turn out to be a good head coach, which is more an administrative job, until a person actually does that job.
The job, to me, would seem to involve being able to lay out a vision for how you want to play the game on all three units, then hiring good coordinators and good position coaches who can coach to that plan, then putting together a plan for acquiring talent (high school recruiting and the transfer portal) to be able to work toward making everything that is planned a reality.
Elliott has one good coordinator – John Rudzinski on defense – and awful coordinators on offense and special teams.
Assessing the position coaches, from a results standpoint, I'd have to say that we're not getting what we need from our QBs coach, our OL coach, and our running backs coach – despite having what seems to me to be solid talent back there, we're not getting much out of that talent.
The recruiting, meanwhile, both the prep and transfer portal, has been abysmal, and it's hard to imagine it getting any better with the results on the field to this point.
Second question: I can see a loss in every game, like you do. Maybe we beat a bad Boston College team up there, maybe we beat W&M at home (but they're really good), and the two Techs are close to as bad as we are.
A lot of maybes.
Nothing definite.
The other issue: I think the additional schools in Cal and Texas may help the ACC in terms of recruiting overall, just by giving our conference exposure to recruits in those states that we hadn't been getting before.
Specific to UVA, though, maybe we just get access to more third-tier talent from those states, because that's what it seems we're getting in our home base.
Wahoowa!