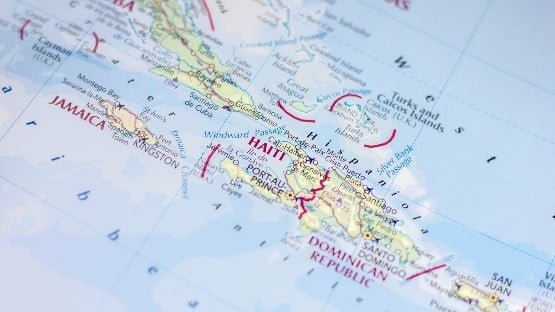 The Justice Department announced on Tuesday four arrests in the plot originating in Florida aimed at overthrowing a democratically elected president, this one in Haiti.
Court documents unsealed this outline the plot to remove Jovenel Moïse, who was considered a threat by drug traffickers in his country because of his administration's efforts to publicly expose high-ranking officials in the country who were in league with the bad guys.
The most recent arrests – Arcangel Pretel Ortiz, 50, a Colombian national and U.S. permanent resident of Miami; Antonio Intriago 59, a Venezuelan-American of Miami; Walter Veintemilla, 54, of Weston; and Frederick Bergmann, 64, of Tampa – involved plotters who aimed to remove Moïse from office, planning to either kidnap him or kill him, in order to replace him with someone who would serve the interests of the traffickers and their protectors in the Haitian government.
The plot led to a raid on the presidential palace on July 7, 2021, in which Moïse was shot to death, and his wife, Martine, was seriously wounded.
11 have now been arrested in plot
With Tuesday's arrests, 11 people now face charges in the Southern District of Florida in connection with the assassination. The third superseding indictment charges Ortiz, Intriago, and Veintemilla as well as James Solages, 37, Joseph Vincent, 57, and German Alejandro Rivera Garcia, 44, who were transferred into U.S. custody last month; Mario Antonio Palacios Palacios, 43, arrested in January 2022; Rodolphe Jaar, 49, arrested in January 2022; and Joseph Joel John, 51, arrested in May 2022.
These defendants – Ortiz, Intriago, Veintemilla, Solages, Vincent, Rivera, Palacios, Jaar and John – are charged with conspiracy to provide material support and resources to a conspiracy to kidnap or kill outside the United States, resulting in death; providing material support and resources to a conspiracy to kidnap or kill outside the United States, resulting in death; and conspiracy to kill or kidnap a person outside the United States.
The superseding indictment additionally charges Christian Emmanuel Sanon, 64, and Bergmann with conspiracy to commit export violations; submitting false and misleading export information; and smuggling ballistic vests from the United States to Haiti. As with Solages, Vincent and Rivera, Sanon was transferred from Haitian custody into U.S. custody last month.
"Today, individuals who we allege participated in the planning, financing, and orchestration of the assassination of Haitian President Jovenel Moïse will face justice in an American courtroom," said Attorney General Merrick B. Garland.
"Today's arrests show the FBI's commitment to vigorously pursue the individuals involved in the brazen plot to kidnap or kill the former Haitian president," said FBI Director Christopher Wray. "As demonstrated by this case, the men and women of the FBI will work tirelessly across borders and oceans to uphold the rule of law. The FBI will not tolerate these acts of violence perpetrated abroad against our international partners."
The plot
Ortiz and Intriago are principals of Counter Terrorist Unit Federal Academy and Counter Terrorist Unit Security (collectively, CTU), and Veintemilla is a principal of Worldwide Capital Lending Group (Worldwide).
Both CTU and Worldwide are South Florida companies.
According to the charging documents, Bergmann, who lived in Tampa, had ties to Sanon, a dual Haitian-American citizen who held political aspirations in Haiti.
As alleged, in April 2021, Ortiz, Intriago, John, Solages and Sanon met in South Florida and agreed to a plan: Ortiz and Intriago – through CTU – would support ousting Haitian President Moïse and replacing him with Sanon. In exchange, once Sanon became President, he would award lucrative contracts to CTU for infrastructure projects in Haiti, the provision of security forces, and the provision of military type equipment to a Sanon-led Haitian government, according to the allegations.
It is alleged that in late April 2021, Veintemilla and his company, Worldwide, agreed to help finance the coup d'etat, extending a $175,000 line of credit to CTU and sending money to co-conspirators in Haiti to purchase ammunition. Veintemilla expected to reap significant financial benefits through Worldwide should President Moïse be replaced as president, as did Ortiz and Intriago through CTU.
Further planning and spending continued in South Florida from April to June 2021, according to the charging documents. Ortiz and Intriago, as principals of CTU, retained a group of about 20 Colombian nationals with military training (including Rivera and Palacios) to provide security to Sanon. Bergmann became a supporter and investor who helped fund the Colombians' lodging in Haiti and worked with Sanon and Intriago to ship 20 CTU-branded ballistic vests from South Florida to Haiti by falsifying the required export documentation.
By June 2021, the plan evolved as Ortiz, Intriago, Veintemilla and others apparently realized that Sanon had neither the constitutional qualifications nor the popular support of the Haitian people to become president. They shifted their support from Sanon to a former Haitian Supreme Court judge, who contracted with CTU and Worldwide to serve the companies' financial interests upon becoming president.
It is also alleged that by June 2021, the plot progressed from forcibly removing Moïse from power to assassinating him. In particular, the conspiracy began to focus on assassination after an unsuccessful effort to seize President Moïse on a return trip to Haiti and spirit him away by airplane to a location outside the country.
According to the charging documents, from South Florida, Ortiz and Intriago managed and directed other members of the conspiracy – including Solages, a CTU representative in Haiti (who coordinated with Vincent and Sanon) and the Colombian nationals who participated in the assassination (through Rivera and/or another Colombian leader in Haiti who was killed while attempting to leave the scene of the assassination).
It is alleged that John, a former Haitian senator, and Jaar both helped secure weapons and provided other support.
On July 6, 2021, co-conspirators met at a house near President Moïse's residence, where firearms and equipment were distributed, and it was announced that the mission was to kill President Moïse, according to the allegations. On July 7, 2021, several individuals arrived outside President Moïse's residence, some of whom were wearing CTU-branded ballistic vests. They entered the President's home and killed him.
If convicted, Ortiz, Intriago, Veintemilla, Solages, Vincent, Garcia, Palacios, Jaar and John face up to life in prison. Bergmann and Sanon face up to 20 years if convicted. A federal district court judge will determine any sentence after considering the U.S. Sentencing Guidelines and other statutory factors.