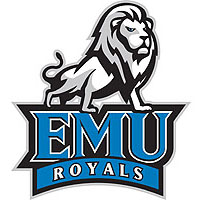 Eastern Mennonite University has announced the resignation of women's volleyball coach Jeff Tyson.  He has accepted a position as the Fitness and Aquatics Operations Manager at The Centre in Adrian, Mich.  Tyson's last day at EMU will be Nov. 7.
He completed his third season with the Royals over the weekend, leading the Royals to an 8-21 finish.  Tyson had a record of 21-58 at EMU.  He averaged seven wins a year for a program which earned seven or less wins in six of the eight years before his arrival.
Tyson expressed gratitude for his time in Harrisonburg.
"Thank you to Dave King and EMU for the opportunity to coach these past three seasons.  I have greatly enjoyed this experience and my family has felt very welcome," Tyson said.  "Thank you as well to my assistant coaches Jake and Carrie, and to the athletic support staff.  Without their hard work the volleyball program would not be what it is.  Lastly, thank you to the players for all of their hard work and dedication.  They are all wonderful individuals and athletes and I am confident in the future of the EMU volleyball program."
In 2013, the women finished 9-18 for their highest win total in four years.  The Royals also picked up their first ODAC wins since 2009 during that season.
Director of Athletics Dave King was appreciative for the base Tyson built for the program.
"I am very grateful to Jeff for bringing stability and consistency to the women's volleyball program" said King.  "Prior to his arrival, the program was coached by someone who also coached the men's team, which was followed by an interim arrangement.  He established relationships with club programs and high school coaches that enhanced the recruiting efforts."
Tyson also worked as the operations coordinator for EMU's Fitness Center.
"Jeff did a great job of balancing his responsibilities in the Fitness Center," explained King.  "His organizational skills and attention to detail allowed him to give his best to both areas of his responsibilities.  He was also a great help to the athletic staff with technology efforts and issues.  He will be missed but I certainly wish him the best for a smooth transition with both his family and his new responsibilities."
King said the search for Tyson's replacement will begin soon.  Assistant coaches Jake Jacob and Carrie Bert will maintain the relationships with players and recruits during the search process.  All other questions regarding the program can be directed to King.