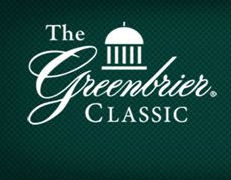 Officials of The Greenbrier Classic announced today that the tournament has accepted early entry commitments from popular young star Jason Day, defending Masters champion Bubba Watson, and 2012 U.S. Open champion Webb Simpson to compete in the 5th edition of the award-winning tournament at The Old White TPC Course.
The Greenbrier Classic will take place from June 30 – July 6, 2014 at The Greenbrier, the classic American resort in White Sulphur Springs, WV.
Day, 26, will be making his first start at The Greenbrier Classic. He has made a habit of excelling on golf's biggest stages. Since 2010, Day has posted six top -10 finishes in major championships, with three runner-up outings at the 2011 Masters Tournament and 2011and 2013 U.S. Open Championships. The 26-year-old Australian native has played in five events during the current 2013-2014 season, recording two top-10s, including his second career PGA TOUR victory at the World Golf Championships-Accenture Match Play Championship to go with a second-place effort at the Farmers Insurance Open. A two-time member of the international squad for the Presidents Cup, Day currently ranks No. 7 in the World and No. 34 in FedExCup points with career TOUR earnings of $15,864,136.
Watson, 35, recorded his second win of the season and second Green Jacket in three years at the 2014 Masters Tournament. Watson's convincing victory to seal his second career major championship was good for his sixth PGA TOUR title and vaulted him to a career-best fourth in the Official World Golf Ranking. His current world ranking is No. 3. A resident of Windermere, Fla., Watson has competed in 11 TOUR events in the 2013-2014 season and recorded seven top-10 finishes, including a win at the Northern Trust Open to go with his Masters victory. He is currently ranked No. 2 on TOUR in FedExCup points and No. 1 on the money list with $4,978,679, raising his career earnings to $23,697,597. Watson leads the TOUR in driving distance with an average of 314.2 yards. He will be making his second start at The Greenbrier Classic. Last year he finished the tournament at 5-under-par 275 to grab a share of 30th place at The Old White TPC Course.
Simpson will be making his fifth start at this year's The Greenbrier Classic. The 33-year-old North Carolina resident has recorded career earnings at The Classic of $365,631.23. His best finish came in 2012 with a T7 effort, his only top-10 at The Old White TPC Course. Last year, Simpson started strong at The Greenbrier with an opening round 64, followed by rounds of 73, 70, 70 for a share of 40th place. The major championship winner has won on the PGA TOUR four times, including the 2012 U.S. Open Championship. His fourth TOUR victory came this season at the Shriners Hospitals for Children Open. Simpson has posted five top-10 finishes during the 2013-2014 season, he is currently ranked No. 33 in the world and No. 15 in FedExCup points. He has career PGA TOUR earnings of $17,121,544.
"We feel very fortunate to have Jason, Bubba and Webb in the field for this year's Greenbrier Classic," said Jim Justice, owner of The Greenbrier. "In so many ways, these three gentlemen represent the face of today's PGA TOUR and they are certain to be fan favorites for our galleries at The Old White TPC Course."
In additional tournament news, fans attending The Greenbrier Classic 2014 will be treated to several enhancements that will upgrade their tournament experience.
The Vehicle Giveaway presented by My Local Ford Dealers will allow fans at the tournamentthe opportunity to register to win a new Ford vehicle during each competition round (7/3/14 – 7/6/14).  Note: A vehicle WILL be given away to one lucky fan each competition round (7/3/14 – 7/6/14).
Details
Must check-in daily (7/3/14 – 7/6/14) at Ford Vehicle Display located on Hole No. 12
Must be present on The Old White TPC Course to win
Daily drawing time: 5:00PM (7/3, 7/4, 7/5 and 7/6)
The Hole-In-One Fan Jackpotadds an extra rooting interest for spectators seated in the bleachers and lawn area on Hole No. 18 from Wednesday's Pro-Am (7/2/14) to Sunday's final round (7/6/14). These fans will receive a cash payout for every hole-in-one made by any player, amateur or professional, in the Pro-Am or official field of competitors for the four competition rounds.
Details
Spectator Cash Payout: $100 1stprize / $500 2ndprize / $1,000 3rdprize
Amateur / PGA Tour Professional: $25,000 1stprize / $50,000 2ndprize / $100,000 3rdprize – to be donated to the charity of their choice
The new Kids Zone presented by Hoops Family Children's Hospital at The Greenbrier Classic brings fans, family and the Fourth of July together. The exciting new venue includes a putting course, bounce houses, concessions, arts and crafts, and face painting for kids of all ages. Fans are encouraged to visit this interactive area, which will be open to the public on Hole No. 12 of The Old White TPC Course.
Patrons Park is the place to be at The Greenbrier Classic this summer!  Located near the 17th green, fans can stop in and relax at umbrella table seating, while enjoying food from The Greenbrier's Restaurant Collection and a local craft beer & wine garden all while watching live tournament coverage on the video board.  Fans will also have the opportunity to join the action with a golf simulator and hitting nets that include closest to the pin and long drive prizes.
The inaugural West Virginia Fellowship of Christian Athletes (FCA) 5K Run will be held on Monday, June 30, 2014 and kick off this year's week-long series of exciting tournament activities. The 5K run will take place throughout the beautiful grounds of The Greenbrier and the historic Old White TPC Course.  To register for the event, please visit www.tristateracer.com.
To stay connected with The Greenbrier Classic on social media, follow on Twitter at @GBRClassic(#GreenbrierClassic) and like on Facebook at www.facebook.com/thegreenbrierclassic.  For more information about The Greenbrier, please visit: www.greenbrier.com.