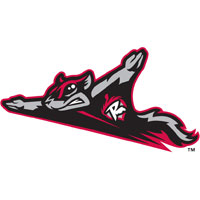 Jarrett Parker's fifth-inning grand slam vaulted the Richmond Flying Squirrels (58-40) past the Harrisburg Senators (39-58), 5-1, in front of a capacity crowd (9,560) at The Diamond on Thursday night.  With the win, the Squirrels obtain a new franchise-record at 18 games over .500.
Richmond right-hander Austin Fleet stymied the Senators over five breezy innings on one hit.  However, Harrisburg righty Brian Dupra matched him stride-for-stride through the first four innings and the ballgame went to the bottom of the fifth inning scoreless.
Once there, the floodgates opened for the Squirrels.  Myles Schroder led off the inning with a double to left-center field.  He was bunted to third by Eliezer Zambrano, and the Senators elected to intentionally walk Skyler Stromsmoe to get to Fleet.  Fleet yanked a single – his first hit of the season – through the left-side of the infield to knock in Schroder for a 1-0 lead.  An out later, Kelby Tomlinson walked to load the bases.  Parker followed and blasted a grand slam over the right-field fence.  Parker's ninth home run of the season was the Squirrels' second grand slam and gave Richmond a 5-0 lead.
Dupra (2-3) retired to the loss after five innings.  He was charged with five earned runs on five hits, walked three and struck out three.
Fleet (7-2) worked 6 1/3 shutout innings and earned the win – his seventh.  He allowed just five hits, walked one and matched his season-high with seven strikeouts.
Lefty Steven Okert cleaned up the seventh inning for Fleet.  He conceded a lead-off home run to Kevin Keyes in the eighth, but limited the damage to the lone run and finished the inning.  Right-hander Hunter Strickland had no trouble in the ninth.
Game two of the four-game series is scheduled for 7:05 p.m. at The Diamond on Friday night.  Richmond LHP Kelvin Marte (7-3, 3.67) will make the start against Harrisburg RHP John Simms (2-1, 3.86).  The Flying Squirrels Pregame Warmup begins at 6:35 p.m. on Sports Radio 910 and SportsRadio910.com.