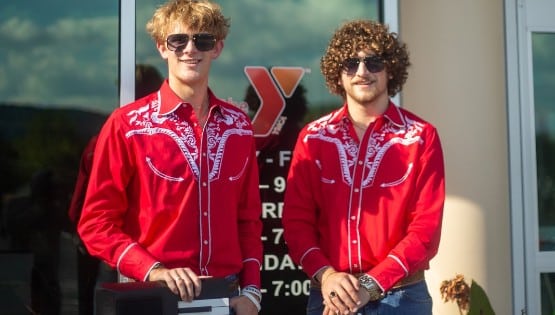 Grandsons of the Statler Brothers and sons of Wilson Fairchild's Wil and Langdon Reid will perform a benefit concert for the Staunton-Augusta Family YMCA.
Jack and Davis Reid gravitated naturally toward following in their grandfathers' and fathers' footsteps to become performers.
"The music has always been something special to us," Jack Reid said. "It really means a lot to us. Some people think we do it just because our family did it, or do it because we feel like we need to. They've always encouraged us to do whatever we wanted to do. We've always been pulled toward it."
The cousins are also continuing another family tradition: giving back to the community through their music.
Music was the Statler Brothers' platform for helping good causes, and a hallmark of the Grammy-Award winning performers who were inducted into the Country Music Hall of Fame in 2008. Wilson Fairchild carries on the tradition with Happy Birthday America, Staunton's 4th of July celebration in Gypsy Hill Park.
"We like to involve others," Davis Reid said, "and it gives us a great purpose to play music."
The concert will be from 7 to 9 p.m. at the Weyers Cave Community Center on Saturday, October 7. Doors open at 5:30 p.m. Concessions, door prizes, raffles, a 50/50 drawing and a cake auction will be available.
The concert benefits the YMCA'S For a Better Us campaign.
"The campaign provides programs that meets community needs like Rock Steady Boxing (for community members with Parkinson's disease), Community Child Care and after school programming," Josh Cole, executive director of the STAUNTON-AUGUSTA FAMILY YMCA, said. "`It fills needs the community has. The community support is critical. We cannot do these programs without the community's support."
The concert is a fun way to support the campaign.
"We obviously honor the Statler Brothers and Wilson Fairchild. They're family," Jack Reid said. "If you like country music and like to have a good time and a good laugh, come out and see us. It's more than just the family's music. It's our music. It's rock 'n' roll music. It's a mix of everything, but we're mostly country. If you like a country show, come out and see us."
Davis Reid said there will be gospel music, too, and Cole believes it's a great event for the whole family.
"It's a family-friendly event," Cole said. "We're encouraging everyone to come out and enjoy it."
Tickets are $20 per person, and available at the YMCA, 708 N. Coalter Street, Staunton and at the door.