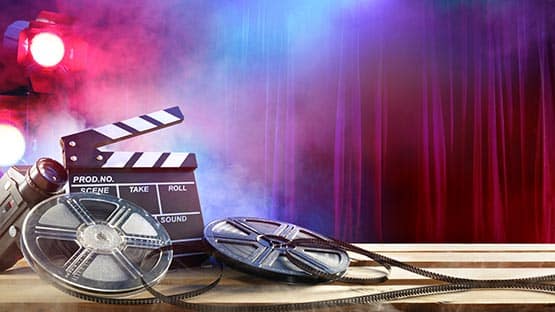 Court Square Theater announces the return of the 2023 Hispanic Film Festival starting Wednesday.
This year's films have been selected by Karina Kline-Gabel who has curated the festival for 18 years. The four-day film series focuses on celebrating Hispanic and Latinx cultures. Festival dates correlate with National Hispanic Heritage Month. All films are subtitled in English.
"We're thankful for JMU College of Arts and Letters Assistant Dean for Inclusive Excellence Karina Kline-Gabel, who created this festival, and who continues to curate each year's films," said Court Square Theater Managing Director J.P. Gulla. "We are also grateful for sponsorships from local universities, and attendance during this film festival from local schools, universities and community members.
"In addition, we appreciate the cooperation of JMU Latin American, Latinx, and Caribbean Studies, The JMU College of Visual and Performing Arts, and the Honors College in making this annual celebration of Spanish-language and bilingual films possible," Gulla said.
Films and showtimes
Blanquita
Wed (9/20) at 4 p.m. & 7 p.m.; Fri (9/22) at 7 p.m.
Blanca, an 18-year-old foster home resident, is the key witness in a scandal involving children, powerful businessmen and politicians. However, as more questions are asked, Blanca's role in the scandal becomes increasingly less clear.
Chile '76
Thurs (9/21) at 7 p.m.; Sun (9/24) at 7:30 p.m.
In Chile, 1976, Carmen heads off to her beach house to supervise its renovation while her husband, children and grandchildren visit during the winter vacation. When the family priest asks her to take care of a young man he is sheltering in secret, Carmen steps far away from the quiet life she is used to.
Carmen
Fri (9/22) at 4 p.m.; Sat (9/23) at 7 p.m.; Sun (9/24) at 5 p.m.
Young and fiercely independent Carmen is forced to flee her home in the Mexican desert following the murder of her mother. After surviving a terrifying and dangerous illegal border crossing into the US, Carmen is confronted by a lawless volunteer border guard. When the border guard and his patrol partner, Aidan – a Marine with PTSD – become embroiled in a deadly standoff, Carmen and Aidan are forced to escape together.
¡Hola Cine!
Sat (9/23) at 3 p.m.; Sun (9/24) at 3 p.m.
¡Hola Cine! features six Spanish-language short films for ages 9 and up, courtesy of New York International Children's Film Festival.
Tickets
Located at 41-F Court Square in downtown Harrisonburg, Court Square Theater is operated by Arts Council of the Valley.
Tickets for each film are $9.50 per person; or $8.50 for seniors; and $5 for students.
Tickets are available online or at the door.