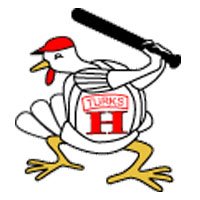 Third baseman Brandon Gold got his first Valley Baseball League career hit on a 2 RBI single that helped lead the Harrisonburg Turks past the winchester royals 4-2.
This is the third straight win for the Turks, who improved to 4-3.  The loss snapped a three game win streak for the Royals, who fall to 3-4.
Gold's single came in the first inning after second baseman Thomas Smith walked, first baseman Matt Rose hit a single up the middle, and left fielder Eric Kalbfleisch moved both runners over on a groundout.
Harrisonburg's lead was solidified in the third inning from a Jesse Baker RBI double and in the seventh inning from a Thomas Smith RBI infield single.
Left handed pitcher Garrett Ford (1-1) earned his first win of the season after throwing seven innings and allowing one run on 6 hits.  Left handed pitcher Brandon Valentine (0-1) took the loss for the Royals and right handed pitcher Logan Onda earned his second save of the season for the Turks.
Harrisonburg hosts the Aldie Senators on Wednesday at 7:30 p.m.