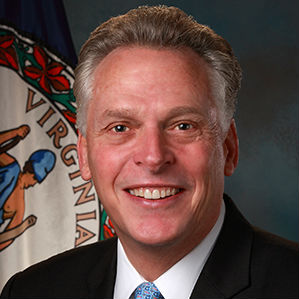 Governor Terry McAuliffe announced Wednesday a series of legislative proposals aimed at expanding economic opportunity across the Commonwealth by improving Virginia's educational system and addressing issues ranging from daycare facilities to building a 21st century workforce. The Governor outlined his administration's educational goals one week before the 2015 General Assembly is scheduled to convene.
Speaking at the Norfolk Technical Center, Governor McAuliffe said, "Building a new Virginia economy begins with an education workforce development system that prepares Virginians at every level to succeed.
"This session I look forward to working with the General Assembly on commonsense steps to offer every Virginian a better shot at economic success from infancy through adulthood. Working together we can expand opportunity in every corner of Virginia and lay a foundation for the stronger, more diverse economy our families deserve."
Below is a summary of the legislative proposals Governor McAuliffe announced today:
Keeping Virginians safe at day care facilities
Increase the number of licensed home day care facilities by requiring all child day care and family day home providers that receive a state subsidy to obtain an operating license.
Reduce dangerous overcrowding at home day care by requiring family day home providers to include children who reside in their home in the total number of children for whom they can legally provide day care services.
Increase state oversight of home day care activities by requiring unlicensed day home facilities to file a declaration of operation with the Virginia Department of Social Services, and require localities to file quarterly reports to the state on the day care centers that receive local business licenses.
Expanding access to world class education
Allow Virginia communities that max out their Pre-K education budget to draw down unused funds to continue to provide access to students who need it.
Increase access to healthy nutrition at school by including funding in the budget to help schools overcome logistical challenges to serving breakfast.
Fund training programs for principals and school board members in struggling school divisions to improve school performance.
Extend a provision allowing retired educators to teach in schools with teacher shortages without impacting their retirement.
Expand expedited retakes of SOL tests for students who just miss the benchmark for progress into the next grade level.