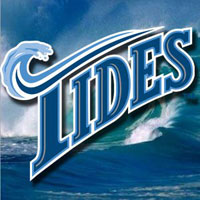 The Norfolk Tides had no answers for Mauro Gomez during Wednesday night's 11-2 loss to the Gwinnett Braves at Harbor Park. . The game was a continuation from the July 25 suspended game and had an announced crowd of 3,960.
The Braves first baseman had an historic night, homering twice and driving in eight runs, the most any opponent has ever recorded against the Tides. He did it with a grand slam, a solo home run and a three-run triple.
Of all the hits, it was his bases-clearing triple in the 7th inning that proved to be the biggest one. It came moments after Stefan Gartrell tied the game at 2-2 with the Braves fourth-straight single, and it gave his team their first lead of the night.
Pitching with a 2-1 lead, Cole McCurry fell into trouble after getting the first out in the 7th inning. The lefthander, who took the mound when play resumed with one out in the 5th inning, allowed four-straight singles as the visitors moved from station-to-station on each base hit. Gartrell capped the singles rally with an RBI knock to left field that tied the contest at 2-2. Gomez followed with his bases-clearing triple that put the Braves ahead for good.
McCurry (2-2, 5.21) took the loss after being charged with six runs on eight hits in 2.2 innings.
Gomez wasn't finished, though. The Gwinnett slugger came to bat in the 8th inning with the bases juiced again and drove a Nick Bierbrodt offering deep into the Tides bullpen to give his team a commanding 11-2 lead. It was the second home run of the game for Gomez, who hit a solo shot in the 4th inning to tie the game at 1-1 before play was suspended.
The Tides took a 2-1 lead after play resumed without the benefit of a hit. Felix Pie drew a walk, and then showcased his speed by stealing second and third base before trotting home after Diory Hernandez mishandled Wil Nieves's throw to third base on the stolen base attempt.
The Tides got on the board first with an RBI single from Jake Fox that scored Matt Angle.
Brandon Hicks added a solo home run in the 7th inning.
Jaye Chapman (2-1, 2.35) picked up the win despite allowing the Tides to take their brief lead in the 6th inning. The reliever allowed a run on one hit but was the pitcher of record when the Braves bats exploded in the 7th inning. He struck out three batters in 1.0 inning on the mound.
Jerry Keller (1981), Mike Figga (1997) and Michael Coleman (1999) previously held the record for most RBI in a game against the Tides with seven.
The Braves and Tides are scheduled to play a seven-inning contest tonight as well.