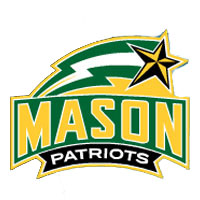 On the final day of the Puerto Rico Tip-Off, the College of Charleston escaped with a 61-60 win over George Mason men's basketball despite a buzzer-beater attempt by the Patriots. With 19.4 seconds left to play, Adjehl Baru hit the front end of a pair of free throws to give the Cougars a 61-60 advantage. Mason used its final timeout with 5.9 on the game clock and on the ensuing play Vaughn Gray attempted a three-pointer at the buzzer that fell just short.
Shevon Thompson was two rebounds shy of matching the all-time tournament record in rebounds, finishing the event with 39 rebounds and 47 points. Thompson was one of four Patriots to post double-figure scoring numbers against the Cougars, finishing with 12 points and 14 rebounds for his second straight double-double. Patrick Holloway and Trey Porter each scored 11 points, while Marquise Moore added 10 points to the board.
Mason won the rebounding battle, 38-29, paced by Thompson's 14 boards as Mason outscored CofC, 30-24 in the paint. The Patriots shot 42.6 percent from the field (23-54) and was 12-for-16 at the charity stripe.
Mason came out strong to open the contest, jumping out with a nine point lead, 10-1, but the Cougars quickly closed the game and knotted the score at 10-10 with 11:56 to play. Mason regained a four-point lead, but the teams would work through four more ties before four points from Porter gave Mason a 31-27 advantage with 3:26 to play in the half. CofC finished the half on a 10-3 run to carry a 37-34 lead at the break.
Trailing by 10 with just over 10 minutes left in the second half, Mason would work to trim its deficit, cutting the score to 58-56 on a Holloway jumper with 4:21 to go. The Cougars took a four-point lead on a Baru bucket, before Moore connected on a pair at the charity stripe and followed it with a jumper to tie the game at 60-all with 45.8 seconds remaining. Drawing a foul with 19.4 on the clock, Baru hit the front end of two free throws as Moore pulled down the rebound. From the left corner, Gray attempted a three-pointer that fell short as the Cougars held onto the win 61-60.
Canyon Barry led the Cougars with 18 points, while Cameron Johnson had 13 and Donovan Gilmore and Baru each posted 10 points.
Mason returns to action in Fairfax, welcoming Manhattan on Saturday, November 29 at 4 p.m.