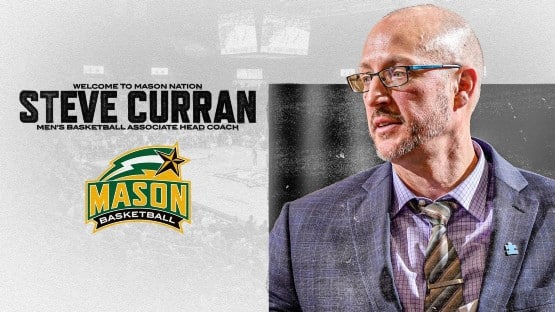 George Mason basketball head coach Tony Skinn announced Tuesday that Steve Curran will join his staff as associate head coach.
It's a big get for Skinn, who was hired last month, basically poaching Curran from A-10 rival St. Bonaventure, where Curran had worked under head coach Mark Schmidt for the past 13 seasons, including the most recent five as Schmidt's associate head coach.
"To be invited to be a part of Mason Nation is an honor I cherish," Curran said. "I have deep respect for the culture of George Mason University, as well as its academic and athletic excellence. I thank Coach Tony for bringing me on as part of his team, and I can't wait to begin recruiting and developing stellar student-athletes in our program.
"My 13 years at St. Bonaventure were wonderful, and that school and the surrounding area welcomed me and my family with open arms. I am thankful for that. Now, it's time to use what I learned there to recruit in one of the hotbeds of high school basketball and continue to build upon this Mason program's proud tradition," Curran said.
Skinn, one of the heroes of the Mason 2006 Final Four team, is a first-time head coach, so having someone with the experience of Curran at his right hand will be nice.
"When you're an associate head coach next to a successful head coach, you've been in difficult in-game situations where you've just figured it out," Skinn said. "Steve's been in that seat, and he's been such a huge part of St. Bonaventure's success. I know I'm going to be in those situations, and his experience in this league will be invaluable. He knows the Atlantic 10 and what it takes to win consistently in our conference. I am thrilled he is a part of our staff."