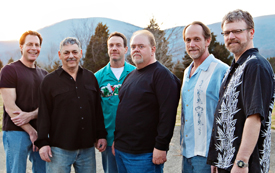 WTA's January Mojo Saturday Nite with Bluesman Kevin Chisnell will feature the rock and blues band Fatty Lumpkin and the Love Hogs.  Also appearing will be James Painteer, songwriter, guitarist, and vocalist.  The Jan. 21 Blues performance will be at WTA's Gateway Theatre in Downtown Waynesboro at 8 p.m.
Fatty Lumpkin and the Love Hogs was formed in 1994.  It is has, according to its followers, "rocked Southwest Virginia" and wherever the music takes them.  Although the membership of  the Love Hogs has changed over time, the band believe the current line up is the best in its history.  The lead vocalist is Michael George who has been called one of the best blues/rock singers in the region.  The soulful sounds of the bands wailing blues harmonica is the work of Ray Cohen. John Vita is the lead guitarist and Andy Burdetsky the bass guitarist. Completing the line up of the Love Hogs is David Bernard on keyboard and Lance Foster on drums.
Local guitarist/vocalist/songwriter James D. Painter will also perform on the Saturday, Jan. 21 show.  Painter is fairly new to the scene, but in just three years he has played most of the Shenandoah Valley's venues and festivals including The Sedalia Blues Festival and the Shenandoah Blues Festival. Whether ripping it up with his band, or playing a solo acoustic set, James performs with fire and intensity, pulling out all stops in between.
Hosting the performance will be Bluesman Kevin Chisnell.  After hearing a harmonica being played on Crescent Beach on Siesta Key at age 14, Chisnell went out and immediately bought his own and has been honking his harp all over the country ever since. He has played venues all over the country: the Cleveland Agora, Houston's Astro Hall, the Double Door in Charlotte, Nashville's Bluebird Cafe and Eddie's Attic in Atlanta, to name a few and shared stages with the likes of Greg Kihn, Bryan Adams, .38 Special, Ryan Adams, Tom Principato, and Jimmy Fortune.  He is currently a member of Muddy Water's Rising Son – Big Bill Morganfield's backing band.
Tickets for the Saturday, Jan. 21 performance are $10 and are available online at www.waynesborogateway.com, by calling 540.943.999 or at the door. Food and beverages are available.