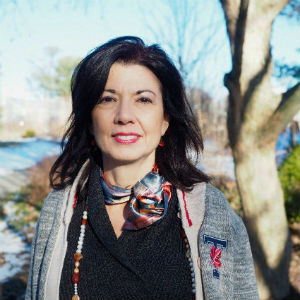 A stereotype perplexed Carol Mullen: Was there any truth to the notion that the intensive focus on standardized testing meant that Chinese learners lacked creativity and the capacity to be imaginative, innovative, and inventive?
After studying this topic in China during her first Fulbright Specialist Scholarship in 2015, her curiosity peaked. She wondered about the creativity of learners across cultures.
Mullen, a professor of educational leadership in Virginia Tech's School of Education, received a second Fulbright Specialist Scholarship in 2017 for her research project, "Creativity and Accountability in Canada within a Global Context." For this research, she was hosted by the Ontario Institute for Studies in Education at the University of Toronto in Canada.
The Fulbright Specialist Program offers U.S. academics and established professionals the opportunity to engage in two- to six-week, project-based exchanges at host institutions and countries around the world.
Mullen is no stranger to Canada. She holds a master's degree and a doctorate from the Ontario Institute and a bachelor's degree from York University in Ontario.
Her earlier research showed that while the Chinese place heavy emphasis on academic outcomes, creative expression and innovation do happen within the country's postsecondary institutions and especially primary schools. That finding compelled Mullen to explore more deeply the question of how creativity affects learning internationally.
Mullen chose to do her second Fulbright program in Toronto because of its strong multicultural nature. According to the city's governmental statistics, Toronto has more than 200 ethnic groups and 140 spoken languages. People from China represent a large cultural group within the city, and the Ontario Institute's graduate programs draw a large number of foreign students, including a significant Chinese population.
"Widening the participant pool in Canada allowed for study not only of the widespread assumption that Chinese learners lack creativity," Mullen said, "but also of learning environments that can make the difference in fostering creative self-belief and discovery."
Throughout the fall 2017 semester, Mullen collected data from the Ontario Institute's graduate students, professors, and administrators during seminars, classes, and interviews. Participants shared their views about creativity and its interplay with national and international trends, particularly student achievement and school performance as evaluated through standardized tests.
The students Mullen worked with in teacher education courses were 42 percent Chinese and mostly female. Unlike the students she taught and interacted with in China during her first Fulbright, Toronto's Chinese learners viewed creativity as all-important in teaching and learning and, in fact, were studying education from the perspectives of liberal arts and humanities.
The content for her Toronto lectures and seminars came from her articles on China and her most recent book, "Creativity and Education in China: Paradox and Possibilities for an Era of Accountability."
Mullen's research led her to three conclusions: Creativity allows learning innovations within classroom teaching; national and international marketplaces influence both entrepreneurial developments and instructional changes; and multicultural achievements make educational and societal cultures more accepting of diversity.
From her explorations and as a direct result of her most recent Fulbright scholarship, she is editing a new book that is coming out with Springer Publishing. "Creativity under Duress in Education? Resistive Theories, Practices, and Actions" includes contributions from well-known creativity researchers who represent a variety of disciplines and perspectives.
For Mullen, the most fulfilling aspect of being a Fulbright scholar is the opportunity to immerse oneself in research and teaching across cultures.
"Conducting research internationally is challenging yet highly rewarding," she said. "Having meaningful exchanges with new people is energizing, and the resulting networks develop everyone's creative ideas and capacity to innovate and invent."
Before leaving for Toronto in the fall, Mullen received the 2017 Living Legend Award from the National Council of Professors of Educational Administration. A past president of this same organization, she has authored or edited 21 scholarly books and more than 175 refereed journal articles and juried book chapters, as well as guest edited 15 special issues of academic journals.