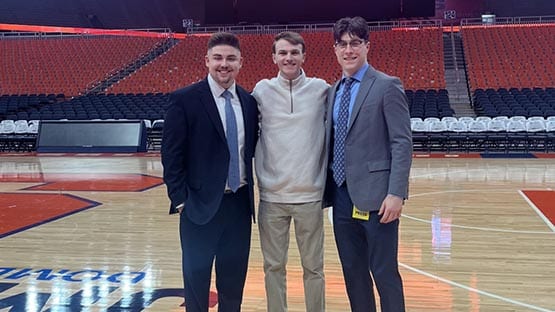 Two friends dreamed of becoming sports broadcasters growing up in New York. They teamed up to attend Virginia Tech together, to go after a career in journalism. The sports media program in the Department of Communications at Tech was relatively new, added in 2020, but they were confident it would teach them what they needed to learn and help them launch successful careers.
Now, upcoming juniors, Kyle Marchak and Giovanni Heater were nationally recognized for their work in collegiate coverage.
On May 26, Marchak was named a first-team All-American broadcaster, and Heater was named to the second-team All-American list by the Sportscasters Talent Agency of America.
The program recognizes each year the nation's outstanding collegiate radio and TV sports broadcasters with a live show streamed on YouTube.
"It was a special moment," Heater said of the recognition. "[Marchak] was my first phone call right away. He said, 'Somebody sent me a fake stream. This isn't real.' It was a special moment where he and I were just so happy and so proud of each other."
As a first-team All-American, Marchak receives three free months of agency membership, a certificate of achievement, and the prestige and exposure that come with being recognized by the group as one of the nation's top young sports broadcasters.
Marchak's recognition marks the fourth consecutive year that a Virginia Tech student has been honored as a first-team All-American.
The duo has certainly come a long way from "pretend broadcasting" Syracuse games growing up.
"We are tremendously happy for Kyle and Giovanni," said Bill Roth, a professor in the School of Communication. "Each has worked incredibly hard to improve his craft, and they deserve this national recognition. These honors are a result of the passion of our students and the opportunities each has to learn, improve, and grow in our sports media and analytics program."