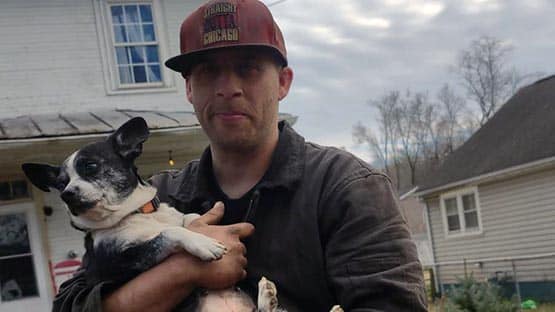 A Waynesboro man is happy to have his best friend, his dog Charley, back home with him after the Friends of the Shenandoah Valley Animal Services Center stepped in to help when his dog was injured earlier this month.
The injury turned out not to be severe, but another serious medical problem was discovered as a result.
Jonathan Thurston, a resident on North Bath Avenue, said his 10-year-old Boston terrier was injured when a friend visited him, and Charley's legs were caught underneath the door.
Thurston reached out to area veterinarians, but didn't have $200 for them to see his dog, much less more money for the actual treatment. He didn't know what to do. Thurston reached out to a friend, Jeffrey Norford, to ask if he knew of any resources in the community that could help him. He was clearly upset and didn't want to lose his best friend.
Norford, through his connections in Waynesboro, helped introduce Thurston to Friends of the SVASC, who stepped up with an offer to help the same day.
Within hours of a request for help on social media, Kelly Jackson with Friends of the SVASC spoke to Thurston and put "a plan in place to get Charley taken care of."
The next morning, Charley was seen by the Animal Hospital of Waynesboro. Jackson met Thurston there, and thankfully, there were no broken bones, but she did have a soft-tissue injury that needed to be treated.
They also learned the leg injury was the least of her problems.
Charley was not spayed and had developed pyometra, an infection in the uterus, which was causing mobility issues. She also had Lyme disease.
Charley had to stay at the hospital for four days to receive extended care. She stayed on IV medications until they could get her stable enough to remove the uterus.
"We're not saying Charley was lucky to have been injured, but because of it, you guys reached out to us at Friends of the Shenandoah Valley Animal Services Center, and our vet found another extremely serious medical problem," Jackson wrote on Facebook as an update to original plea for help. "She's getting the best care possible."
Jackson said it was truly "touch and go" for awhile. "It is wonderful to know we could step in and provide the means to save her life," Jackson said.
Thurston said this week that he is "very happy that someone was willing to help." He said he is "so happy to have her back."
Friends of SVASC
Jackson serves on the board of directors for Friends of SVASC. She is also the medical coordinator for the non-profit organization. Formed in 2019, their primary mission is to help animals at the local shelter, SVASC.
She said that the localities generally provide enough money to give vaccines and basic care to animals.
"We constantly saw animals who suffered because they needed surgeries or had illnesses that the shelter had no funding to care for," Jackson said. "We need to make the adoptable, so we stepped in to take care of their extended medical needs."
To date, the small but mighty organization, with three board members, based in Waynesboro, has raised and spent more than $150,000, helping 340 animals since 2019.
The majority of help has been to shelter animals, Jackson said, but occasionally, they take on cases like Charley, which they consider special community outreach cases for "those in need."
Jackson said they have helped a number of people who are on disability, seniors or those on fixed incomes who are facing an emergency with their pet.
"Sometimes people try to relinquish their pets to the shelter because they can't pay for a surgery," Jackson said. "If we can help keep them out of the shelter, we will step in."
Jackson said she was made aware of Thurston's ordeal after a few of her rescue friends tagged her in the social media post asking for help.
"We decided to help Charley because she was suffering and after speaking to the owner, it was obvious he did not have the means to help her," she said.
"Everything we do is possible because of monetary donations from our community," Jackson said. "We can only help as long as we receive those funds."
To donate to Friends of the SVASC, click here.