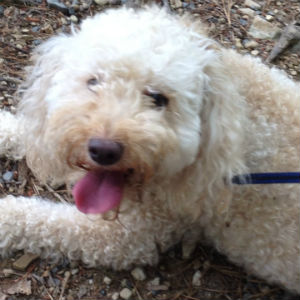 As you consider plans to take in a fireworks display this coming Fourth of July weekend, it should probably go without saying – it's a bad idea to take the family dog along with you.
Veterinarians at the Virginia-Maryland College of Veterinary Medicine at Virginia Tech remind us loud noises, whether from fireworks, gunshots, or thunderstorms can cause a tremendous amount of stress and anxiety for dogs.
Dr. Mark Freeman, assistant professor of community practice in the Department of Small Animal Clinical Sciences cautions dog owners to be sensitive to their pet's fear of loud noise.
"It will cause dogs to be very frightened, and with the continuation of noise, it's sort of an amping-up effect. The more noise they have, the more reactive they become.  It just compounds the problem."
Many dogs will look for a place to hide or a place where they feel more safe and secure. Freeman says "when they are in a situation where they are being bombarded with noises that are causing a tremendous amount of stress for them, they are looking for any source of security."
Additionally, animal shelters report July 5th as their busiest day of the year for runaway dogs.
For dogs that have phobias with loud noises, behavior therapy and modification can be an option. However, it can be a very time consuming process and is not a viable alternative for all dog owners.
"Medications can help dogs cope with noise, particularly sedatives," said Freeman. "On an as needed basis, they can help make the dog feel more calm and quiet."
Pet owners should consult their local veterinarians about the best option for dogs that suffer significant reactions and anxiety to summertime noise.