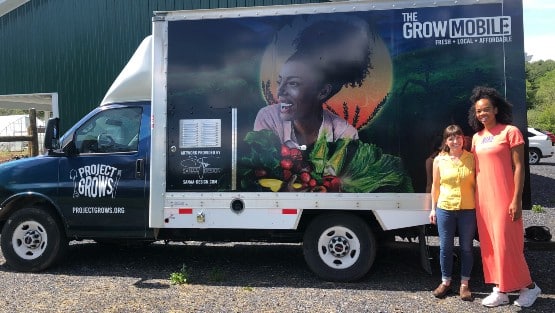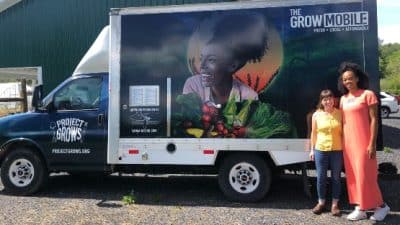 Clara Metzler's journey led her on the road to food and nutrition.
The new executive director of Project GROWS has been connected with the organization since she was in college, and began her career with the farm in Augusta County.
Metzler grew up in Rockingham County, the youngest of four children, in the town of Dayton. She attended college briefly at St. Lawrence University in New York in search of what she wanted as a career.
After a break, she ventured out to Seattle with her sister, but returned to the Valley in 2012. She found her way back to school at Bridgewater College majoring in sociology with a concentration on nutritional science and cultural studies.
"That was my way of creating a food studies major," Metzler, 33, said.
After a two-year grant-funded honors research project on an emergency food system in the Valley, Metzler considered pursuing a career in research or teaching nutrition.
"I just got totally swept up in food systems work," she said. She learned that she wanted to take what she learned from the project and get her hands in the dirt.
She visited Project GROWS and stayed connected with the organization until after college.
"I was really inspired by the work that was being done here and the way in which it was being done."
In March 2018, she joined the staff as a farm assistant, ready to get her hands dirty.
"And I never left," Metzler said.
In March 2023, she was named executive director. She and her husband live in Augusta County.
"Food is a human right, and good food," she said of her philosophy. She said she thinks healthy food should be available to everyone. "And I think that's what we try to do here [at Project GROWS]."
The organization works to care for people, the planet and the community.
"There's nothing more universal than [food]," Metzler said. "Everyone needs to eat."
Project GROWS will continue to provide food education at Waynesboro School's farm project at Berkeley Glenn Elementary School and participate in the Waynesboro Farmers Market on Saturdays. But the organization has a new initiative in the hopes of reaching community members who have transportation barriers and cannot attend farmers markets.
"I think the focus for sure of this year will be we added on these new mobile market sites," Metzler said.
Survey results revealed that the organization can reach the community by bringing food directly into the community.
The organization revamped a Krispy Kreme truck into a mobile market with artwork by Sanaa Design artist Sarah Jones, who lives in Staunton.
Jones said she and the Project GROWS team reviewed designs for about a year before deciding on the final result.
"The actual inspiration for this image was I asked my sister to hold veggies," Jones said. While the face of the girl on the truck is altered not to resemble her sister, Priscilla, she has her sister's hair.
The inspiration was also "just to highlight the beauty of what fresh vegetables can do for people. Food is medicine."
The mobile market will be available different days at seven sites: the Boys & Girls Club, Fairfax Hall Senior Living in Waynesboro, Gypsy Hill House, Elizabeth Miller Gardens, Farrier Court, the Health Department in Staunton and at Project GROWS farmstand on the farm.
This Friday, Project GROWS will host its 7th Annual Plant Sale at the farm at 608 Berry Farm Road in Augusta County from 4 to 6 p.m. Live music and kids activities will accompany the sale of lettuce, chard, kale, bok choy, arugula and many more veggies. SNAP-eligible community members will be able to purchase edible plants for 50 percent off. Light appetizers will be served. Community members are asked to RSVP via the organization's Facebook page.
"Just an opportunity to come out and see the farm in its full spring glory and engage with the community," Metzler said.