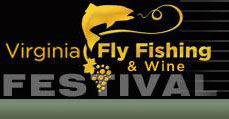 One of the nation's top fly fishing events features family fun, live demonstrations, wine sampling and a chance to win a $10,000 Alaska fly fishing expedition.
Join fly fishing and outdoor enthusiasts in Waynesboro and celebrate the 12th annual Virginia Fly Fishing Festival, April 21-22, from 9 a.m. to 5 p.m. each day, rain or shine.
Whether you are a seasoned fly fisherperson or are just looking for a day of fun, please join us on the banks of the South River in Waynesboro. The Virginia Fly Fishing Festival is the largest outdoor fly fishing event in the country that offers on-stream instruction. Tickets are $20 for adults and kids 16 and under are free.
Highlights of the weekend include:
• Demonstrations for beginners
• Streams and creeks of the Shenandoah Valley
• Casting demonstrations throughout the day
• Members of the Federation of Fly Fishers will help children catch native brook trout from an on-site Children's Catch and Release Trout Pool
Another highlight of the weekend is the presentation of the 2012 Virginia Fly Angler of the Year Award and Virginia Fly Fishing Festival Foundation Dinner, sponsored by Dominion Resources. Tickets for the all-you-can-eat prime rib buffet are $50 apiece and sell out well in advance.
Between lectures, classes, and lunch, noted Virginia wineries will pour samples of popular vintages.  Tastings are included with festival admission. Attendees can sip wine while listening to live riverside music.
Over $10,000 worth of raffle prizes will be featured, including the grand prize of a week's fishing at Alaska's Alagnak Lodge, compliments of Hanover Fly Fishers. Conservation-minded Subaru will showcase their newest models and give away custom-made popping bugs tied in Subaru colors by Walt Cary, the best known popping bug maker in the Mid-Atlantic. One lucky guest will win the opportunity to spend a weekend in the City of Hampton with a day's fishing on the Chesapeake Bay with Captain Tommy Mattioli.
For more information about the festival, including a complete schedule, visit www.vaflyfishingfestival.org.