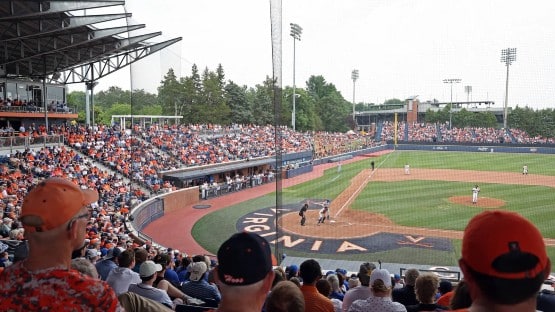 Nick Parker: 'Today was a grind'
Virginia's Game 1 starter, Nick Parker, was lights out in the 2-1 win over East Carolina on Saturday night, but it was clear, even after a solid first inning, that he didn't have his best stuff on Friday.
Parker's final statline – three runs on six hits in six and two-thirds, with four strikeouts, two walks and two hit batters – looks fine, and he left with the lead.
But it was a battle all day.
"Some days are a grind. And I think today was a grind," Parker told reporters after the 5-4 Virginia loss.
In Virginia's 10-2 win over Duke on April 29, Parker got the win with another six and two-thirds inning effort, striking out 12, walking one, and giving up two runs on four hits in that outing.
Credit to Parker, though. He ate up innings.
"Today was one of those survive-type mentalities, just kind of do what I can for the team to, you know, give us some length and keep the bullpen fresh for the next couple of games," Parker said.
Bullpen finally loses one
Virginia had compiled an astounding 45-0 record when leading after six innings this season, a testament to the strength of the bullpen.
But it was the pen that got tagged with the loss on Friday, with closer Jay Woolfolk and lefty reliever Jake Berry surrendering two runs in the Duke eighth.
Woolfolk, in particular, looked rusty, after only getting one pitch – literally one pitch – in last weekend's three-game sweep of the Charlottesville Regional.
Head coach Brian O'Connor was asked after the game if the pen was a cause for concern going into Game 2 on Saturday.
"I've got the utmost confidence in our bullpen," O'Connor said. "Tomorrow, the key is going to be getting off to a good start and, and a deep start, based on where we're at right now. But I've got a lot of confidence in those guys. They've done the job all year long. A big reason why we have one of the top 10 ERAs in the country is we've been very, very consistent. And so, I expect that tomorrow in tomorrow's ballgame."
All hands on deck?
In the postgame presser, O'Connor noted that his other three starting pitchers – Connolly Early, Brian Edgington and Jack O'Connor – would all be available for Saturday's Game 2.
The press release from the media-relations staff sent out a little later lists Early (11-2, 3.35 ERA) as the scheduled starter, but given that it's a do-or-die game for the 'Hoos, you can expect to see everybody available other than Parker, should the need be there.
Why didn't Oak bunt in the eighth?
My colleague, Scott German, has our press seat this weekend, and he and I texted back and forth in the eighth inning and then after the game about the curious move by O'Connor in the eighth, not having Ethan Anderson bunt with Kyle Teel on second base with no one out in the inning.
Why it's curious? O'Connor is not shy about having his guys bunt, no matter where the team is in the batting order.
Anderson is Virginia's five-hole hitter, has 12 homers and a .622 slugging percentage this season, sure, but he does, according to the stats, have one sacrifice this season.
Getting Teel over to third with one out gets Duke to bring the infield in, and it gives the six-hole hitter, Casey Saucke, a chance to tie the game with a grounder through the drawn-in infield or a flyball to the outfield.
The latter of which, yes, he delivered – a flyball to right – but it was with one out and a runner on second, not on third.
I understand having your RBI guy, Anderson, swing away there.
I also kinda wish we had a sense of Oak's thinking.
Scott, didn't get to ask the question.
In his defense, he texted me this: "I had my hand up."
Well, that's all you can do, really.
It ain't over 'til it's over
O'Connor has led Virginia to five College World Series appearances.
"I think, if I recall correctly, four out of the five times we've made it to Omaha, it's taken three games," he noted in the postgame presser.
"That's why it's a three-game series. So our guys, we'll put this behind us and be ready to play at 12 o'clock noon tomorrow," O'Connor said.
His two guys with him in the presser were sounding the right notes to that effect.
"It's all about taking it one game at a time," said Kyle Teel, the ACC Player of the Year, who was 2-for-4 at the plate with an RBI single in Game 1.
Teel was also a key contributor to the 2021 team that rallied from a Game 1 loss to Dallas Baptist to win the final two games of that Super Regional and earn a College World Series berth.
"That team, we had a saying called, What's next? What's next is all that matters. So that's where we're at in this team right now. What's next? That's it," Teel said.
"You know, grinded all year to get to this point, right? So, there's no kind of sway in our mentality, right? We're gonna go out tomorrow, and we're gonna bring the fight to them," Parker said. "It's what we do best. We're gonna be aggressive, we're gonna keep being aggressive. Just another day, one pitch at a time for us."
Win or lose, it seems that the Virginia side will be ready.
"I told the team after the game that, you know, after they take a little bit of time to process this, that, you know, it's one game in a three-game series," O'Connor said. "I know the character of the young men that we have that wear that uniform, and I know that they'll be ready to play tomorrow, and there won't be any carryover from today."