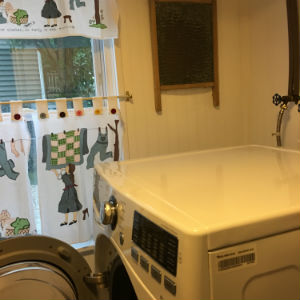 Column by Linda R. Jones
It all started with the water bill.  Our water bill is unusually high for the low occupancy of our old home.  Our plumber, who has an intimate relationship with every water line in our home, suggested, after researching every other possible explanation, we purchase a front loading washing machine.  That was great.  It was so easy convincing my husband to renovate the laundry room and purchase those high tech washer and dryers I have been drooling over for years.  "It will pay for itself with the money we save on the water bill."
A few months ago, my laundry room was done complete with new high-tech washer and dryer.  I couldn't wait to do laundry.  There are so many buttons and a delightful chime when the appliances start and finish.  I can even change the chimes if I like.  I can also synch it to my smartphone.  Wait?  What?  Why?  How?  Will the appliances retrieve and sort laundry?  Will they fold the laundry and put it away?  I read the manuals.  It was a long and boring read because I didn't understand it.
I called for back-up.  My sister-in-law and daughter-in-law are super clean and have the newest and best cleaning gadgets.  They were so excited that I had the newest models.  They were certain I would love it.  I didn't know how to operate them yet.  I was texting both of them a few times daily to ask for assistance.  They told me I had to make sure I used HE detergents, I had to wipe out the washer after every use, leave the door open when not in use, empty the bottom water line next to the filter I also had to clean, and run it through a clean cycle every month.  This is what I was supposed to be excited about?  I have to clean the washing machine every time I use it.  Well, at least it would decrease the water bill significantly.
The dryer was easier.  There is no major cleaning except the lint trap.  That I could do.  There's even a code that displays in the event I forget to do it.  I find that a little uppity on part of the appliance but I'll let that go.
This morning, my new high-tech dryer lost its chime.  I told my daughter there was something wrong with the dryer.  I was getting myself worked up.  I had a plan to call the place of purchase and demand they fix the dryer immediately.  I was fuming.  My daughter kept asking me if I was sure there was something wrong because the chime isn't obnoxiously loud or annoying.  I told her it didn't even chime when I started it.  I need that chime!  Pavlov's dog when it comes to technology.  I can't function without a chime.
My daughter started her laundry and called me into the laundry room.  "You see this button, Mom," she said without laughing.  "That's the signal button.  You must have pushed it off."  What?  Wait a minute, let me get my glasses.  Swell.  Since I can't read any of the buttons without my glasses, I missed it.  I had indeed pushed the signal button off.  I was relieved to hear the dryer chime again.  I knew what to do again.
My daughter started laughing.  "I'm just thinking how you would have looked if you cursed out the store and a technician came out to show you the signal button."  I cringed.  I pictured the same thing.  I've done that in the past with my smartphone.  It wasn't ringing and going straight to voicemail.  Again with the Pavlovian ringing!  The crescent moon was constantly on instead of in synch with the moon cycle.  I remember marching right into the store where I purchased it and demanding another one.  The technician calmly said, "See this crescent moon?  That means you put it on a silent mode."  I never went back.
As for the water bill, it's still the same.  I have an antique washboard in my laundry room.  It's starting to look quite appealing.  If only it chimed.