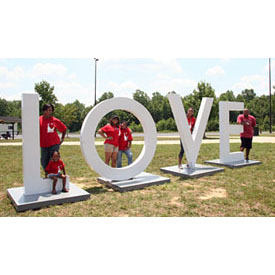 The Virginia Tourism Corporation will install its oversized LOVE artwork to Shenandoah Caverns on June 27th as part of the state and local partnership to promote tourism.
The artwork, which is 16 feet long and more than six feet high, promotes the message that Love is at the heart of every Virginia vacation.
Visitors can view the LOVE on display near the Statue of Liberty float in front of the American Celebration on Parade museum at Shenandoah Caverns beginning Friday, June 29 through July 5.
"Shenandoah Caverns is delighted to host the LOVE artwork during the July 4th holiday as we celebrate our love of America and our appreciation of the military families who have fought for our independence and freedom, because at Shenandoah Caverns, American pride runs deep"  said Joe Proctor, General Manager of Shenandoah Caverns Inc. "We invite you to bring your family to our Family of Attractions  and experience LOVE here in the heart of the beautiful Shenandoah Valley of Virginia."
The LOVE artwork made an appearance at the Shenandoah National Park in April and has made various stops at Virginia Welcome Centers, attractions and localities throughout the Commonwealth. It has become a favorite photo opportunity for visitors as well as local residents wherever it has appeared.
Photos taken by people from across the country can be seen on the Facebook and Twitter pages using the special hashtag #LOVEVA.
"Our iconic Virginia is for Lovers brand is about love – pure and simple, and has been for more than 40 years," said Rita McClenny, interim president and CEO of the Virginia Tourism Corporation. "We are excited to share the LOVE at locations throughout the Commonwealth where so many people can enjoy being a part of it. It reminds us that Virginia is an ideal destination for families looking to completely connect on a Virginia vacation."