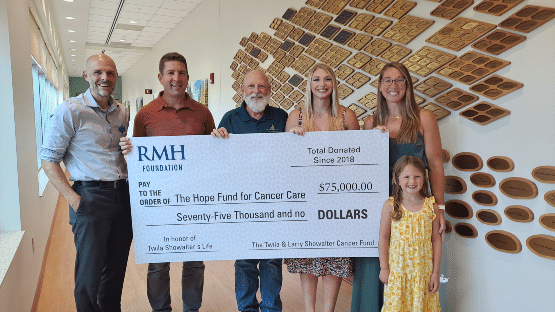 The Twila and Larry Showalter Cancer Fund has donated $75,000 to RMH Foundation for the treatment of patients at Sentara RMH Hahn Cancer Center.
Since 2018, the fund has raised $75,000 for RMH Foundation's Hope Fund for Cancer Care. This week, the cancer center received a $19,000 donation from the Fund.
"The Hahn Cancer Center helped us and it's an amazing group of people here that run this and treat people," Larry Showalter said. Showalter's wife, Twila, died Dec. 28, 2017, from colon cancer at age 58.
Showalter and their three children made it their mission to honor Twila's life and help others in their brave fight against cancer.
"We take a situation that was a negative and turn it into a positive. The treatment we received here at Sentara RMH Hahn Cancer Center was incredible and if we can do a little to honor Twila and to help other people, it means so much to us," Showalter said.
Donations are presented each year around Twila's birthday, which was August 12.
"It's taken on a life of itself. It has grown so much more than we ever expected," Showalter said. "I can remember when we first decided to do this we said, 'Wouldn't it be great if we raised $2,000 and maybe eventually get up to $10,000?' And here we are five years later and our donation of $19,000 has made the total $75,000."
Twila Showalter, a resident of Penn Laird, Va., had Stage 4 colon cancer when she was diagnosed and fought the disease for 3.5 years, received care at Sentara RMH Hahn Cancer Center. She was known to many as an avid sports fan and fitness instructor.
The Showalter Cancer Fund has grown to include community support through a three-day holiday basketball tournament at Spotswood High School and funds received through the Great Community Give event.
Showalter and his family hope to raise $25,000 in 2024 to bring the donation total to $100,000.
"The Hope Fund is such a beautiful reflection of the community's generosity, and the Showalter family's support is a shining example of how thoughtful gifts can make a life-changing impact," Cory Davies, executive director of the RMH Foundation, said. "We are deeply grateful for their continued commitment, the difference it makes for our patients, and the inspiration it is to our community."
Sentara RMH Hahn Cancer Center provides more than 19,000 treatments every year.
The RMH Foundation's Hope Fund for Cancer Care, established in 2016, gives hope and healing to patients battling cancer in the community. The mortality rate for cancer in the Harrisonburg and Rockingham County area outpaces the state of Virginia. Support of the Hope Fund for Cancer Care helps detect disease in patients sooner, expedites necessary care and builds a stronger path to recovery.