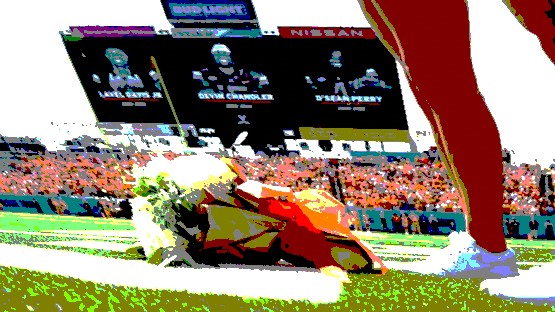 The UVA players that we were given access to postgame shrugged off the idea that there was any special emotion to Saturday's season opener in Nashville.
It's not because the emotion isn't there.
You could tell that from what their coach, Tony Elliott, had to say.
"I was at peace, you know, I was at peace, knowing that, man, the victory had already been won, you know, just this team getting to this point and being here, in the face of everything," Elliott said after the opener, a 49-13 loss to #12 Tennessee.
Virginia was able to hang around for a while. UT, favored by 28 coming in, was up just 7-0 midway through the second quarter, the result to that point of an inspired effort by the Cavaliers defense, which unfortunately wasn't balanced out by anything resembling productivity from the UVA offense.
Tennessee, taking advantage of the UVA defense having to be on the field more because the offense couldn't sustain drives, would get some breathing room just before the half, driving 75 yards in a minute-thirty-six to go into the locker room up 21-3.
A Vols touchdown on their first drive of the second half then sent things in the direction of extended garbage time, which, of course, was hardly surprising, given what the folks in Vegas had said with their spread coming in.
Even so, it was disappointing that things played out the way they did, considering everything the UVA football program has been through.
Last Nov. 13, a day after an ugly 37-7 loss to Pitt, three football student-athletes – Lavel Davis Jr., Devin Chandler and D'Sean Perry – were shot and killed by a classmate at the end of a drama class field trip.
A fourth player, Mike Hollins, was able to survive the shooting, but only after having to undergo emergency surgeries, and his prognosis afterward in terms of ever even being able to walk again wasn't good initially.
Hollins was on the field Saturday, getting five touches – four carries and a 2-yard catch out of the backfield.
He didn't score, didn't break off a big play from scrimmage, so, nothing storybook for us to tell you about there.
Just the fact that he was on the field was enough.
"Just the fact that, you know, back in November, we had no idea, you know, what, what, like, what his life was gonna look like, much less than he was gonna be able to run out with the Fourth Side flag today and be able to play, and to be a significant part of our game plan, so, just a testament to him, you know. Really, really proud of him, and he's an inspiration to me, and that's why I say, he's a walking miracle. And you're very fortunate in life if you're able to witness a miracle. For us, like, we've all been blessed because he is in the room," Elliott said.
Hollins wasn't made available to the media after the game. The fifth-year senior has talked at length about his recovery, both the physical and the emotional, and it's easy to figure that, at some point, it's probably gotta be hard for him to keep talking about where he is with things.
He saw things that no one should have to see, friends dying in front of his eyes, had to outrun being shot to death himself, then facing down doctors who were telling him a lot of things he would never be able to do again.
For the rest of his teammates, they may not have seen or experienced those things firsthand, but it's still not easy to be any of those guys, either.
"You got to remember, every day they walk out on that field, they're reminded, every day they walk off that field, they're reminded, every day they go to class on Grounds, they're reminded. Every day, they're reminded of what happened, and not everybody is done grieving or healing. And we're still healing as an institution, as an athletic department, as a program. We got families and individuals that are still grieving and still healing," Elliott said.
"The victory for us, and so the good thing was, we were able to get to this point, and even though the outcome didn't go the way that we wanted it to go, the guys can have confidence, knowing that, you know what, I can do it," Elliott said, conceding that the emotions surrounding gamedays aren't over yet.
"Next week is going to be different, though, because we're going to be back in Scott Stadium, and you know, that brings a different component, and there's going to be, you know, a lot of things, you know, done by the athletic department, so, there's another set of challenges. But we got to take it one day at a time," Elliott said.
"That's how we've gotten to this point, and that's how we'll do it. We'll take it one day at a time," Elliott said. "We're going to process this game, and as I told the guys in the locker room, you know, part of part of having a winning mindset is, you have to learn how to win, you got to learn how to lose, right, and take a loss. And so there's going to be a lot of learning in this in this experience, and then we'll flush it Sunday and Monday. You know, we got to get our minds ready for JMU and then everything that's ahead of us in that Monday and then transition to Tuesday, Wednesday, Thursday as we prepare for Saturday."