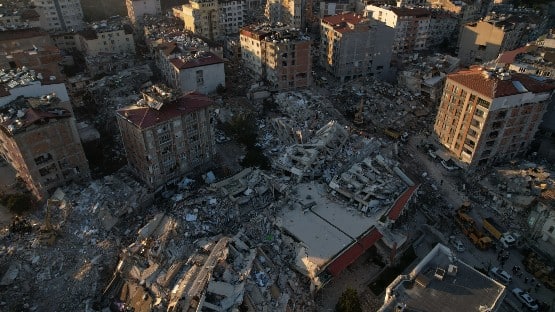 The deaths of more than 45,000 people, and counting, in Turkey and Syria from the massive 7.8-magnitude earthquake two weeks ago are a sad function of the world economy.
"Most of the casualties in Turkey and Syria occurred in four- to 12-story residential structures, which is often the type of housing in high demand in developing countries as rural residents migrate to cities in search of better jobs and services," said Roberto Leon, a professor of civil and environmental engineering at Virginia Tech.
What he's saying here is, the destruction and mass loss of life seen in Turkey and Syria is something that can and probably will happen again in developing countries, just because of the economic realities.
"There is an enormous inventory of poorly designed and constructed buildings around the globe," said Leon, whose academic program area is structural engineering and materials.
What happened in Turkey, Syria?
Leon cited several reasons for the mass infrastructure disaster resulting from the Feb. 6 earthquake, two related to building codes – poor enforcement of existing codes that had been updated after a 1999 quake that killed 18,000 in Turkey, and the decision to grandfather older, deficient structures and not requiring them to be retrofitted.
He also pointed to generally poor construction practices from builders in the region, and the inability of engineers to identify "killer" buildings through simple screening procedures.
"Killer" buildings are buildings that because of their age, type of construction, lack of seismic detailing, etc., will not perform to their intended level, Leon said.
Leon explained that the replacement of these buildings is beyond what most economies can sustain, and said that we will likely continue to see catastrophes like what happened in Turkey and Syria.
Could this kind of thing happen in the U.S.?
Leon doesn't think a disaster of the magnitude seen in Turkey and Syria is likely in the U.S., but there are some areas at some risk.
"At risk could be cities located along the New Madrid fault – Memphis to St. Louis along the Mississippi River – which could see a large number of collapses of unreinforced masonry structures if an earthquake were to happen, Three very large earthquakes occurred there in 1811-1812," said Leon, adding that the West Coast could see the collapse of numerous "killer" buildings if the San Andreas, Hayward-Calaveras and Juan de Fuca faults break.
Leon said there's a 30 percent probability this will happen in the next 50 years.
"A recent statistical analysis for the Los Angeles basin indicated that there were about 300 such buildings that would collapse should the maximum credible earthquake occur," Leon said.