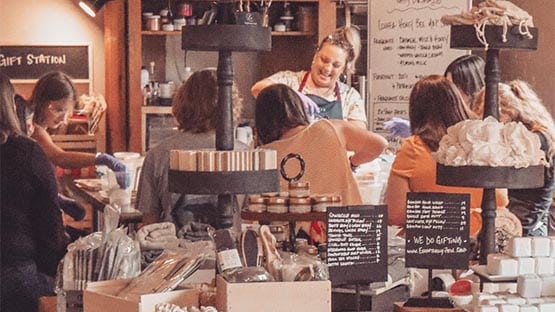 In coordination with Women's History Month and International Day of the Woman, Downtown Staunton is proud to announce its upcoming 2023 Queen City Women's Day to celebrate the contributions of women to Staunton and the Shenandoah Valley.
The citywide event – taking place on Saturday, March 11 – will feature pop-up shops, maker demonstrations, musical events and other activities hosted by participating Downtown Staunton businesses that specifically showcase local women entrepreneurs, artists, makers, musicians and community advocates.
For Downtown Staunton merchants – so many of whom are women-owned businesses themselves – the goal of Queen City Women's Day and its organizers is simple but incredibly important: to help shine a spotlight on the remarkable contributions that women make to our local communities and economies.
"I am so excited to help bring Queen City Women's Day to downtown Staunton in celebration of women in business, while also amplifying women's impact on the larger Shenandoah Valley," said event organizer and local businesswoman Megan Burrows, owner of the Staunton-based plant, gift and home décor store, Burrow & Vine. "Along with the incredible business neighbors here in downtown that are helping bring this event to life, we look forward to showcasing the many women in our Valley. We have so much to be proud of in our town and this is just the start of many more great things to come."
Her fellow business neighbors are equally excited about the inaugural March event.
"Empowering women entrepreneurs is not only the right thing to do, but it is also essential for our economy to thrive," said fellow Staunton women business owner Sherrie Brown of Essentially Zen Shop. "I hope that this event will inspire and enable women to share their stories, find connection, and continue to take bold steps towards achieving their entrepreneurial goals."
Event details are available here.