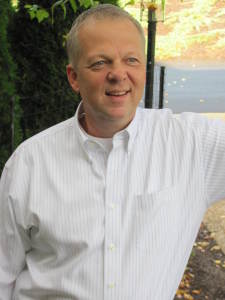 A crowd of about 40 friends and supporters crowded into Dominion Outdoors' Common Ground facility in Fishersville early this afternoon to hear Dan Moxley formally announce his candidacy for the Republican nomination for Virginia's 24th State Senate district seat currently held by long-time incumbent, Republican Emmett Hanger.
"I entered the political sphere to help regain our freedoms.  In fact, because of being a father and business owner, words like truth, freedom and liberty began to take on a greater meaning," Moxley said. "This campaign is about making sure that the founders' vision survives. This is a campaign for liberty."
Moxley continued, "I believe that America is an exceptional nation, and I believe that Virginians are exceptional people. As I travel throughout the 24th District and around the state, I meet exceptional people everywhere. What they want, and what they need, is a chance – a chance for liberty."
Supporter Shannon Tate said, "I heard Dan speaking the principles that I grew up with and still believe, and I'm excited that we have a candidate we can believe in."
Tina Freitas, President of Founding Fathers Republican Women's Club, introduced Dan to the crowd. "The Senator from the 24th District must
be someone who won't buckle under the liberal agenda of Richmond, and Terry McAuliffe. What we need in Richmond, we have in Dan Moxley," Freitas said.
More online at www.DanMoxley.com.