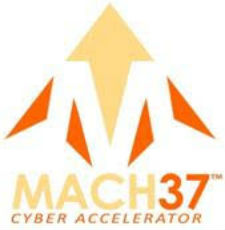 At its fourth Demo Day on June 2, the Center for Innovative Technology and the MACH37™ Cyber Accelerator hosted over 120 investors to hear pitches from entrepreneurs of cybersecurity startups. Guests included accredited investors representing top-tier venture capital firms, leading edge technology companies and angel groups from the Washington, D.C. region and east coast.
Rick Gordon, Managing Partner of MACH37™, said, "The companies in our Spring 2015 cohort represent some of the most creative and exciting emerging cyber talent in the Nation that are choosing MACH37 and Virginia as the place to flourish. They recognize that the MACH37 Cyber Accelerator is fueled by a strong mentor network that is leveraged by our excellent program that is quickly launching new, innovative startups into this fast-growing market."
With this latest graduating class of cohort companies, the MACH37™ Cyber Accelerator has launched 22 new, innovative cyber security startups in 25 months, Gordon added.
Demo Day presenters included:
Anatrope


Teague Newman, Co-Founder
Anatrope provides next generation fleet management, location based services and fee collection technology for personal and commercial automobiles. Sensors developed to detect always-on features in vehicles, provide easily integrated automotive solutions.

Atomicorp


Michael Shinn, Co-Founder
Scott Shinn, Co-Founder
Atomicorp's technology defends against a wide range of security threats through system immunization, intelligent self-learning, application firewalling, attack surface reduction and self-healing – all in a solution that requires minimal configuration.

JeKuDo Privacy Company


Elissa Shevinsky, Founder and CEO
JeKuDo Privacy Company is building the best easy-to-use privacy tools, starting with group messaging. Their app is encrypted, ephemeral and designed for security – ideal for private chats with your closest friends and colleagues.

Eunomic


John Nelson, Co-Founder
Jim Harris, Co-Founder
Eunomic creates software for network switches that takes away the attacker's advantage and makes critical networks secure. Their solution runs on commodity processors to reduce the total cost of ownership.

Shevirah


Georgia Weidman, Founder and CEO
Shevirah is a provider of testing tools for assessing and managing the risk of mobile devices in the enterprise and testing the effectiveness of enterprise mobility management solutions. Shevirah allows security teams to integrate mobility into their risk management and penetration testing programs.
For more information on the presenting companies, please visit: www.mach37.com/explore/cohort-companies/.
Pete Jobse, CIT President and CEO and MACH37™ Executive Chairman, said, "With customer, investor and management relationships and professional guidance that deploys the next generation of technology while reducing investor risk, MACH37 breaks down barriers for promising cybersecurity startups. We have built an ecosystem that is globally unique and is increasingly being recognized as the creative center for cybersecurity products."
The application period for the MACH37™ Fall 2015 (F15) Cohort is now open.  Entrepreneurs with emerging products and companies are encouraged to apply by visiting www.mach37.com and filling out the online application.  The program is open to startups from any geography whose founders are ready to engage in a rigorous mentorship program designed to produce the next generation of leading security product companies.
About MACH37™: MACH37™ is the premier accelerator for information security entrepreneurs and startups.  We go beyond the traditional model of typical business accelerators by bringing our innovators focused mentorship and support from our extensive network of visionaries, practitioners, and successful entrepreneurs in security.  Our Spring and Fall sessions are designed to propel graduating companies into the marketplace, equipped with the skills to grow and compete for funding and market share. MACH37™ was launched in 2013 by the Center for Innovative Technology, in Herndon, Virginia.  To learn more, please visit www.mach37.com and follow @MACH37cyber on Twitter.
About the Center for Innovative Technology: Since 1985, CIT, a nonprofit corporation, has been Virginia's primary driver of innovation and entrepreneurship. CIT accelerates the next generation of technology and technology companies through commercialization, capital formation, market development and revenue generation services. To facilitate national innovation leadership and accelerate the rate of technology adoption, CIT creates partnerships between innovative technology start-up companies and advanced technology consumers. CIT's CAGE Code is 1UP71. To learn more, please visit www.cit.org.  Follow CIT on Twitter @CITorg and add the Center for Innovative Technology on LinkedIn and Facebook.