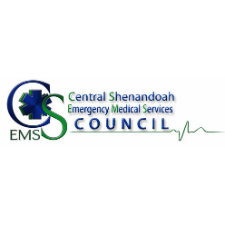 Central Shenandoah EMS Council kicked off National Emergency Medical Services Week on Sunday.
This year's theme is "EMS STRONG: Called to Care." The EMS Strong campaign seeks to celebrate, unify and inspire the men and women of our nation's emergency medical services. Created by the American College of Emergency Physicians (ACEP) in partnership with the National Association of Emergency Medical Technicians (NAEMT), EMS Strong brings together associations, EMS services, sponsors and national media to honor the dedication of EMS practitioners nationwide.
CSEMS is recognizing the efforts of the over 1,900 volunteer and career EMS providers in the Central Shenandoah Valley. These highly trained men and women in our region serve their communities 24 hours a day, 365 days a year providing prompt and effective emergency medical care. Central Shenandoah EMS Council provides regional planning and EMS educational services which helps coordinate a seamless regional network of emergency responders working together as a team, regardless of municipal boundaries, ensuring every day that those with the most critical emergencies receive the highest level of care.
"Local career and volunteer EMS professionals are committed to delivering exceptional emergency medical care in their communities. They strive for seamless care, from the field to the hospital emergency department or trauma center. Their commitment to ensuring that patients receive the best medical care available, anytime and anywhere, is instrumental to advancing the health, safety, and well-being of the citizens in our region," Executive Director Chad Blosser said. "EMS is an essential part of building a resilient health care system that functions efficiently and effectively every day and is capable of responding to disasters and public health emergencies."
Join CSEMS during the National EMS Week in thanking the dedicated professionals in emergency medical services for the critical work they do to help preserve and save lives, improve the health and welfare of our community, and protect the health security of all residents, workers and visitors in the Shenandoah Valley and across the country.