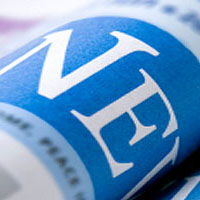 The Camera Heritage Museum in Staunton will be featuring an exhibit on WWII photographic memorabilia starting on Pearl Harbor Day.
The museum, which is the only camera museum open to the public in the country, will show a camera from one of the Japanese bombers as well as some of the photos it took while bombing the US Naval Fleet.
Cameras, photos and other items from the war are being featured in the WWI Exhibit. Hitler's videographer's camera, a Russian spy camera and Nazi Luftwaffe camera and others are shown as well as original photos from the liberation of Auschwitz and many other WWII prints.
Other exhibits that will be open include a history of the Kodak Brownie, a collection of spy cameras and a history of photography beginning at the roots and continuing to modern digital technology.
The exhibit will be open Monday-Friday from 9 a.m. to 5 p.m. There is a $5 admission charge. Call ahead for group rates. A guided tour, if desired, takes from 45 to 90 minutes, or a self-guided tour is also available.
For more information, call 540-886-8535 or see www.cameraheritagemuseum.com.