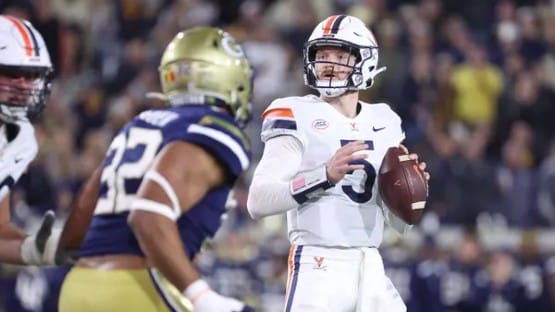 Brennan Armstrong returned to Virginia after the coaching change last December because he thought the offense could still be "as dynamic" as it was in his record-setting 2021 season.
His one year trying to run the mishmash of an offensive scheme installed by Tony Elliott and Des Kitchings turned into an unmitigated disaster for all involved.
To this day, I will never be able to reason why Elliott and Kitchings felt the need to tear things up and start over given what they inherited.
"It was hard for a lot of guys to see change when we were a top-five offense, and then coming and switching our entire offense, which happened because of the coaching change," said Armstrong, who is now at NC State, reunited with his offensive coordinator at UVA, Robert Anae, who took over as the OC at State in December.
Anae also lured Garret Tujague, his offensive line coach for six seasons at Virginia, to join him in Raleigh to coach the offensive line down there.
Armstrong enters spring practice, which begins for NC State on Wednesday, as the clearcut favorite to be the starting QB in the fall, in what would be his sixth year of college football.
For Armstrong, it's a chance to show the football world that last year was an aberration.
And the schedule gods will give us a chance to see how he's doing early in the 2023 season. NC State visits Virginia on Friday, Sept. 22, for a nationally televised game that you can bet has the attention of a few of the guys wearing red and white.
"Yeah, I have that one circled," Armstrong said. "I want to go in there and prove myself in a fashion to people, from one season to the next, that kind of lost that luster of myself and how I can play football."
Armstrong was a three-year starter at quarterback at Virginia, after backing up Bryce Perkins in his first two years on Grounds.
His breakthrough season was 2021, in which he threw for a school-record 4,449 yards and 31 touchdowns, with a 65.2 percent completion rate, 10 INTs and a 156.4 passer rating.
But because the UVA defense made opposing offenses look like so many unstoppable forces, the Cavaliers finished 6-6, and after Athletics Director Carla Williams pressured head coach Bronco Mendenhall to make a change at defensive coordinator, Mendenhall decided to step down instead.
Williams then hired Elliott, the offensive coordinator at Clemson, to take over the job, forcing out Anae, who lobbied for his quarterbacks coach, Jason Beck, who had been Armstrong's mentor for four years, to be his successor.
Elliott passed on even interviewing Beck for the OC job, and eventually hired Kitchings, who had two one-year stints as an offensive coordinator, at Vanderbilt and at NC State, neither of which ended well, to replace Anae.
The departure of Anae and Beck, who both went to Syracuse last year, led to the decisions of starting offensive linemen Victor Oluwatimi, Bobby Haskins, Ryan Swoboda and Joe Bissinger to transfer out, forcing Elliott, Kitchings and Tujague to cobble together a makeshift offensive line from what was left behind and from the transfer portal.
Armstrong, behind that patchwork O line, was often left to run for his life as he also tried to learn a new scheme that neither he nor the talented group of wideouts that stayed on with him ever seemed to get comfortable with.
His 2022 numbers are a reflection of what unnecessary change can do to a record-setting quarterback from one year to the next.
Armstrong, in 2022, passed for 2,210 yards and seven TDs, with a 54.7 percent completion rate, 12 INTs and a 109.4 passer rating.
His last game at Virginia, a Nov. 12 loss to Pitt, began with Armstrong throwing pick-sixes on the first two plays from scrimmage.
That's a big reason he has Sept. 22 circled on his calendar.
And, good news for Armstrong, he's back in Anae's Air Raid, which he likes because "it's so friendly to the quarterback and lets the quarterback play free."
"It's just a feeling I get when I played in it, and I was in it for so long, but it's quarterback-friendly, and guys are playing without hesitation, and I think that was a lot of what happened last year. There was a lot of hesitation and just thinking, and when you get out on the field, there's no time for thinking. You've just got to go play," Armstrong said.