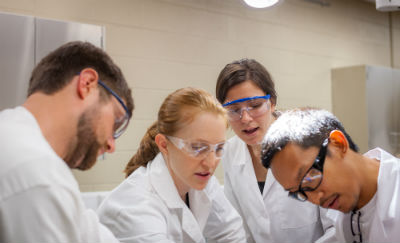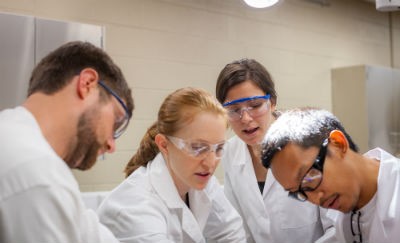 Eastern Mennonite University (EMU) has expanded its articulation agreement with the Edward Via College of Osteopathic Medicine (VCOM) to include acceptance of five biomedicine graduate students who meet entrance criteria.
The agreement, which was first established in 2008 for undergraduate students, stipulates that students who are enrolled in the MA in biomedicine program, complete all required courses at EMU with a 3.2 GPA, and meet all general admission requirements will be guaranteed admission to the medical school.
"An articulation agreement with VCOM gives our biomedicine graduate students assurance that if they succeed in our program, they will have an enhanced opportunity to enter medical school," said Roman Miller, PhD, director of the MA in biomedicine program. "This is a wonderful opportunity for some of our students to enter into a quality medical education program."
VCOM is located in Blacksburg, Virginia, with campuses in Spartanburg, South Carolina, and Auburn, Alabama. Established in 2002 to help alleviate the critical shortage of physicians in the Appalachian region, VCOM has "focused on recruitment of students from the Appalachian region and from other rural areas with special emphasis on attracting minority and mission-minded candidates," according to its website. The student body is approximately 780 students, slightly larger than the usual medical school.
VCOM also has an articulation agreement with the undergraduate program at EMU, but this agreement for graduate students took some time to establish, Miller said, because VCOM traditionally averages the grades received in coursework taken at the undergraduate and graduate level.
"If a student took organic chemistry as an undergraduate and got a C- and then took it again as a graduate student and got a B+, the averaged grades would not be that impressive," Miller said.
Under the current agreement, VCOM will accept grade replacements from graduate level coursework if the grade received in a class taken at the graduate level was better than one taken as an undergraduate.
Articulation agreements with schools such as EMU, Maryville College and Southern Wesleyan University provide "students with the opportunity to secure their spot at our medical school and then focus on their studies to become superior physicians who will make a difference," said John Rocovich, Jr., chairman of the board at VCOM, in a 2012 article.
VCOM student Anca Chirvasuta Dauer, who graduated from EMU in 2012 with a degree in biology, agrees. "Studying at VCOM has been everything I expected and more. I expected an academically rigorous program, which VCOM definitely provided, but I did not necessarily expect the atmosphere of support and camaraderie that I have experienced from fellow students and staff like the kind I enjoyed as an undergraduate at EMU. From daily classroom interactions, to anatomy labs and outreach projects, I have become close to many of my classmates and will feel honored to one day work as colleagues with such well-rounded, smart, and genuine people."
Article by Kara Lofton