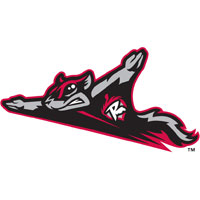 Binghamton right-hander Tyler Pill nearly single-handedly defeated the Richmond Flying Squirrels (39-31) as the Mets (40-31) strolled to a series sweep with a, 6-0, victory on Thursday night at NYSEG Stadium.  Pill worked eight scoreless innings on the hill, and knocked in four runs at the plate.
Each starting pitcher posted two scoreless innings to begin the ballgame.  In the third, Pill put Binghamton on the board first against Richmond righty Kyle Crick.  Batting left-handed, Pill popped his first professional home run to right field.  The solo-shot gave the B-Mets a 1-0 lead.  It marked the third home run of the year allowed by Crick, and three consecutive starts in which he had allowed one.
The B-Mets tacked on a run in the fourth to take a 2-0 advantage.  With one out, Crick walked Brandon Nimmo for the second time on the night.  Dustin Lawley followed and blistered an RBI double through the gap in left-center field.
Crick (4-3) didn't last through the fifth inning, retiring to the loss after 4 2/3 innings.  He allowed two earned runs on four hits, walked four and struck out seven.
Left-hander Phil McCormick cleaned up the fifth inning for Crick, but endured his own hardship in the sixth as Binghamton grabbed firm control.  The B-Mets notched five consecutive hits against McCormick including a bases-clearing double from Pill sent into the right-field corner.  Pill had previously added a single to his home run and finished his night at the plate 3-for-3 with four RBIs.  Kyle Johnson capped the inning with an RBI double to left-center field that brought in Pill.
Pill (5-5) never faced adversity as he breezed through eight innings on the mound.  At one point he retired 11 straight and 16-of-17 as he earned his fifth win of the year.  He permitted just four hits, walked none and struck out nine.  Lefty Adam Kolarek finished the shutout with a scoreless ninth inning.
The Squirrels continue their six-game road trip as they travel to Erie, PA, to open a three-game series with the Erie SeaWolves (Detroit Tigers) on Friday night.  First pitch at Jerry Uht Park is scheduled for 7:05 p.m. as Richmond RHP Austin Fleet (4-1, 3.40) will make the start against Erie LHP Kyle Ryan (5-6, 3.79).  The Flying Squirrels Pregame Warmup begins at 6:35 p.m.on Sports Radio 910 and SportsRadio910.com.