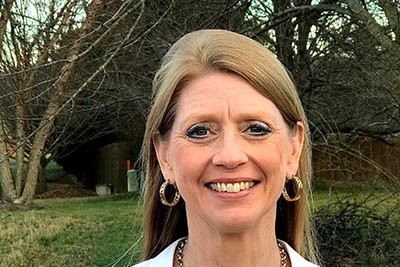 On the Greenway down near the South River in Waynesboro by two poplar trees is a bench for visitors, runners and hikers to sit and rest.
Some who sit on the bench may not know the woman for whom the bench will be dedicated in a ceremony on Sunday, Aug. 28, at 3 p.m.
"It's going to last for a very long time," said Scott Seaton, Anne's husband of 30 years, and a member of the Augusta County Board of Supervisors.
Anne Seaton, a mother of one daughter and three sons, founded the Republican Women's Club, which sponsored the bench.
She made contributions to several local organizations, including the Waynesboro Symphony Orchestra, for which she helped increase fundraising efforts. She was also vice chair of the Augusta County Republican Party.
"I can't imagine going through what I've gone through without the community, without my family," Scott Seaton said. The expressions of support from his patients and the community helped him through his grief.
On April 23, 2021, Seaton was driving through the intersection of Main Street and Lew DeWitt Boulevard in Waynesboro about 10:30 p.m. when a young driver sped through the red light going east on Main Street and struck Seaton's vehicle. She was killed instantly.
"When someone is taken from you in a split second," Scott Seaton said of the senselessness of his wife's death.
Anne Seaton would have turned 50 years old on June 14, 2021. She had just been told that her oldest child, daughter Joscelyn, was expecting Anne and Scott's first grandchild. Raymond Scott, named after his grandfather, was born seven months ago. He has red hair like his grandmother.
"What do you do with the next 30 years?" Scott Seaton said of life without his wife. "You never know your wife is going to be taken because someone wants to drive [drunk]."
Before colliding with Anne Seaton's vehicle, Sean Webster, 22, of Chesapeake, struck a Hyundai on Jefferson Highway at Nottingham Lane in Augusta County and fled the scene.
When Waynesboro Police arrived at the intersection of Main Street and Lew DeWitt Boulevard, Webster's and Seaton's vehicles were both in the CVS parking lot. Webster was charged with drunk driving by Waynesboro Police and charged with hit and run by Virginia State Police for the Augusta County incident.
The Seaton family spoke of forgiving Webster at Anne's memorial service a week later, because Anne would have wanted them to forgive.
"I don't think he needs mercy, he needs to do his full time," Scott Seaton said.
According to Seaton, Webster drove through the intersection in Waynesboro without his headlights on after the hit and run in Augusta County. Webster was out on bond after charges of drunk in public and assault of an officer in Virginia Beach.
"You hope that when he gets out, he learned what he needs to learn," Scott Seaton said.
As a physician, Scott Seaton has seen his patients' loved ones mourn and experience the unexpected.
"I have 30 years of really good memories. Some people don't get that," he said.
A plaque on the bench reads: "Anne Seaton 1971-2021, Remembered for her kindness and faith."
All are welcome to the bench dedication in Waynesboro.