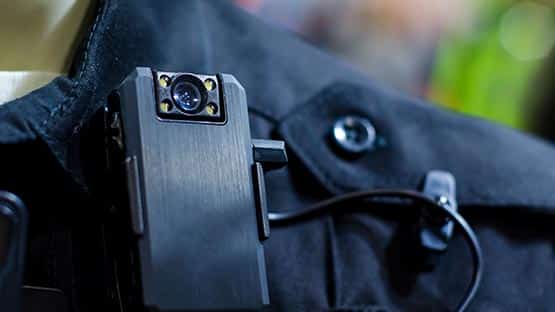 Two Augusta County leaders flipped from their earlier support of funding for body and dashboard cameras for the county sheriff's office when push came to shove Wednesday night, effectively tabling the cams, which have the support of an overwhelming majority of county residents, for at least another year.
Middle River Supervisor Gerald Garber and Beverley Manor Supervisor Butch Wells had both supported a one-cent tax increase that would be used to pay for the body and dash cams last month.
Wells, after the vote, cited concerns with the cost of the new Augusta County Courthouse, which voters approved in a 2022 referendum.
"It's not that I don't support the body and dash cameras," Wells told the News Virginian. "But it is, what can we afford?"
Garber said he was swayed by people who spoke at a March public hearing.
"Bottom line is, if you're going to have a public hearing and you ask for input, then you should listen to what your people say," Garber told the News Leader after the vote. "And by and large, my people said, at this time, no, which is why I got there."
The measure failed Wednesday night by a 5-2 vote, with Pastures Supervisor Pam Carter and Wayne Supervisor Scott Seaton being the two who maintained their support for the body and dash cams from the majority that had backed them a month ago.
Seaton pointed to the results of a community survey that was presented to the Augusta County Board of Supervisors last month, which measured 90 percent of county residents backing body and dash cams, and 80 percent agreeing that county tax dollars should go toward purchasing the body and dash cams.
"We had a poll of 801 individuals on the internet that returned 90 percent favorable for cameras and those who wanted to pay for it 80 percent. Even the majority on the budget poll that was released, which wasn't quite scientific because it could be answered twice or more, it also showed a majority appreciate that budget. I think we have a plan to approve these. I think we should proceed to approve the cameras. And I think this will help our deputies," Seaton said.
The body and dash cams issue has gotten caught up in the ongoing feud between Augusta County Sheriff Donald Smith, Commonwealth's Attorney Tim Martin, and members of the Board of Supervisors with the locally infamous Nexus Services, whose CEO, Michael Donovan, and two company vice presidents, Richard Moore and Timothy Shipe, were indicted last year in a case in which it is alleged that Donovan and Moore stole $426,000 from Zachary Cruz, the brother of Parkland High School mass shooter Nikolas Cruz.
Nexus Services, which began operations in 2014, has been the focus of numerous state and federal criminal investigations in its short history, including a $1.5 million employment tax fraud indictment against Moore announced in 2021, and a 2021 lawsuit filed by attorneys general in three states, including Virginia, and the federal Consumer Protection Bureau alleging that the company preys on immigrants held in federal detention centers by concealing or misrepresenting the true nature and costs of its services.
Nexus Services established a corporate headquarters in Augusta County in 2015, with county leaders initially touting the reported 250 jobs that Nexus Services, which helps post bond through third-party licensed bondsmen for people held in immigration detention centers while they await court cases, would bring to the local economy.
The era of good feelings would be short-lived. The company filed a federal lawsuit against Smith in 2016, alleging that Smith was working with a local bail bondsman to derail its bonding program, which it later dropped.
In 2019, an effort to link Smith to a Harrisonburg man who was convicted in a 2018 labor-trafficking case during Smith's run for re-election was linked to a PAC formed by a Nexus Services VP.
Nexus Services was also at the center of a series of protests at the Augusta County Sheriff's Office in 2021 that led to the arrests of 19 people on noise ordinance and disorderly conduct charges, most of which were eventually dismissed in Augusta County General District Court.
The protests were organized and led by Nexus Service officials in the aftermath of two officer-involved shootings, one of which led to the death of a Grottoes man who had told family members of his desire to die by suicide-by-cop.
Garber seemed to acknowledge the feud with Nexus Service as a reason for his decision to flip from supporting the body and dash cams to voting against them last night.
"I had a lady who wrote me a four-page letter who said she was in favor of the body cameras, she supported the sheriff's office, but she thought we were being bullied and shouldn't do it at this time," Garber told the News Leader.