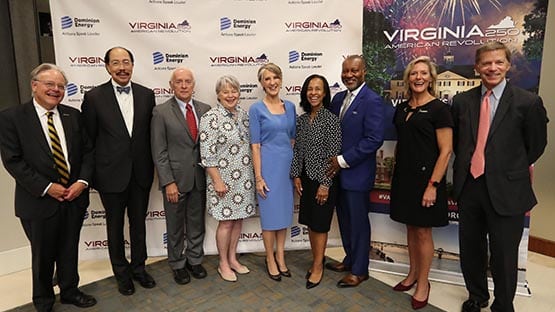 A Richmond couple has committed $125,000 to a traveling museum to celebrate America's 25oth birthday.
Rob and Jean Estes committed the gift as a matching gift incentive in honor of the Virginia Trucking Association. This means that every dollar donated to the VA250 Mobile Museum Experience will be matched by the Esteses, up to $125,000.
"We are honored to support the VA250 Mobile Museum Experience," said Rob Estes, president and CEO of Richmond-based Estes Express Lines, a privately owned freight carrier. "This museum will be a great way to teach children and adults about the history of American independence in Virginia. We hope our gift will encourage others to give as well."
The VA250 Mobile Museum Experience will bring the full story of Virginia's role in the American Revolution to life for students and adults across the state beginning in fall 2024.
The museum will travel to schools, fairs, community centers and more, featuring interactive exhibits that allow visitors to learn about the events, people, and places that shaped Virginia's history.
"We are grateful to Rob and Jean Estes for their generous gift," said Cheryl Wilson, executive director of VA250. "Their support will help to make the VA250 Mobile Museum Experience a reality. We encourage everyone to join the Estes in supporting this important project because Virginia's history is America's story."
For more information on the VA250 Mobile Museum Experience, visit va250.org