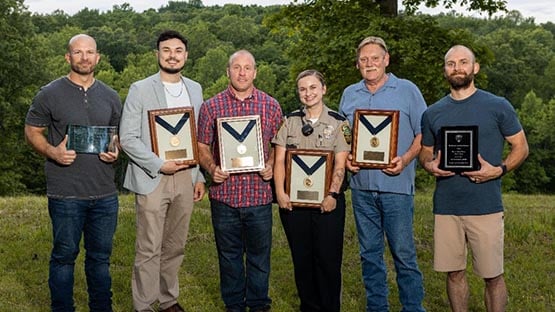 The Albemarle County Police Department recently presented a series of annual awards to recognize team members. In addition to the department awards, the Albemarle County Police Foundation distributed five awards to staff and community members.
2022 award recipients included:
Officer of the Year: Officer Pete Schellinger
Civilian of the Year: Andrew Friedman, Criminal Investigative Analyst II
Detective of the Year: Detective Chuck Marshal
Chief's Eagle Award: Cindy Jones, Management Analyst II
Rookie of the Year: Officer Bailey Legg
Leadership Award: Sergeant Casey Flippin
Professionalism Award: Officer David Hooper
LF Wood Community Service: Sergeant McCoy Loya
Community Relations, Crime Prevention & Safety Award: Virginia Eagle Distributors
One Organization Committed to Excellence: Edward Brooks, Program Coordinator
Foundation Board Member of the Year: Emma Palmerton
Jay James hosted the event attended by ACPD officers and their families.
"We are excited and grateful for the opportunity to gather and celebrate the positive work that you are doing for the community and to recognize outstanding individual accomplishments," said Albemarle County Police Foundation Board President Michael Straightiff. "Because of your exceptional work, you make the foundation's job easier."
*Not pictured: Cindy Jones, McCoy Loya, Virginia Eagle Distributors, Ed Brooks, Emma Palmerton