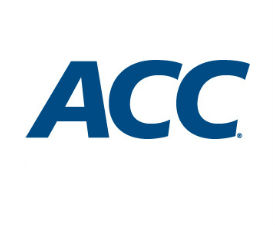 The Atlantic Coast Conference and the Charlotte Sports Foundation have reached an agreement which will keep the Dr Pepper ACC Football Championship Game in Charlotte through the end of this decade, ACC Commissioner John Swofford announced Monday.
The agreement covers the next six championship games, beginning with this year's 10th Annual Dr Pepper ACC Football Championship, and concludes after the 2019 season. The announcement was made at an 11 a.m. press conference at Bank of America Stadium in Charlotte, the site of the last four ACC title games.
The additional six years provides that, at the conclusion of the current contract in 2019, the Dr Pepper ACC Football Championship Game will have been played in Charlotte for 10 consecutive years.
"We are pleased to announce that Charlotte will continue to be the home of the Dr Pepper ACC Football Championship through the 2019 season," said Swofford. "The Charlotte Sports Foundation, Bank of America Stadium, the Carolina Panthers and entire City of Charlotte have been outstanding partners and continue to facilitate the growth and success of the game and our many ancillary events. This annual weekend is a true celebration of ACC Football."
The four Dr Pepper ACC Championship Games which have been held in Charlotte have been extremely successful from a fan experience and attendance standpoint, as the games have averaged nearly 70,000 fans per contest (69,632). That includes sellout crowds in both 2010 and 2011 and an ACC Football Championship record crowd of 73,675 in 2011. Over the last four years, the ACC ranks second among all conferences in total attendance at its football championship games.
"The Charlotte Sports Foundation, on behalf of the city of Charlotte, is very proud to be able to announce a multi-year extension of the Dr Pepper ACC Football Championship in Charlotte," said Johnny Harris, Chairman of the Charlotte Sports Foundation.
"Our Board is dedicated to the long-term health of this game in Charlotte, and it remains committed to working together to ensure Bank of America Stadium is its home for a very long time. This is a continuation of a great partnership between Charlotte and the Atlantic Coast Conference."
"The Charlotte Sports Foundation is honored to partner with the ACC for a six-year extension of the contract for the Dr Pepper ACC Football Championship," said Will Webb, Executive Director of the Charlotte Sports Foundation. "Our goal is to have the entire Charlotte region embrace this tremendous Championship Game."