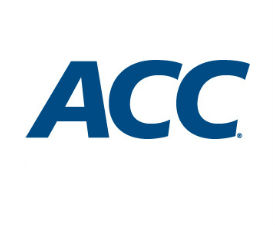 The  ACC  had 10 players  selected on the second day in the second and third rounds of the 2014 National Football League Draft Friday night at the Radio City Music Hall in New York City.
Three players from 2013 National Champion Florida State were chosen starting with CB Lamarcus Joyner at No. 41 by the St. Louis Rams, DT Timmy Jernigan tabbed No. 48  by the Balitmore Ravens and S Terrence Brooks, taken No. 79 by the Baltimore Ravens.
The three selections gave Florida State four players taken on the first two days of the draft, as WR Kelvin Benjamin was also chosen 28th overall on the first round Thursday night.  A year ago, the Seminoles led all schools with 11 players selected.
Miami, which had G Brandon Linder chosen 93rd overall by the Jacksonville Jaguars, extended their consecutive streak to 41 straight years as the Hurricanes have now had at least one player chosen every year since  1974.
Three ACC schools saw significant draft streaks continue. Both FSU and Virginia, which saw T Morgan Moses taken 66th by the Washington Redskins, extended their streaks to 32 consecutive years with at least one player taken in the NFL Draft. Both Florida State and Virginia have had at least one player chosen every year since 1983.
At the conclusion of Friday night's session 10 ACC schools had at least one of their players chosen in the NFL Draft as the ACC had 15 players drafted,
In all, the ACC had three players drafted in the second round and seven in the third.
Rounding out the ACC selections on Day Two of the NFL Draft were Georgia Tech DE Jeremiah Attaochu, who was selected 50th overall by the San Diego Chargers; Syracuse DT Jay Bromley, who was tabbed 74th overall by the New York Giants; Maryland CB Dexter McDougle, chosen 80th by the New York Jets and Clemson T Brandon Thomas, who was taken No. 100 by the San Francisco 49ers.
The final four rounds of the draft concludes Saturday.
ACC NFL Selections (Through 3rd Round)
Rd           No.         Name, School                                                    Pos.                       Team
1              4              Sammy Watkins, Clemson                            WR                         Buffalo Bills
1              10           Eric Ebron, North Carolina                            TE                           Detroit Lions
1              13           Aaron Donald, Pitt                                           DT                           St. Louis Rams
1              14           Kyle Fuller, Virginia Tech                               CB                           Chicago Bears
1              28           Kelvin Benjamin, Florida State                     WR                         Carolina Panthers
2                  41             Lamarcus Joyner, Florida State                             CB                                 St. Louis Rams
2                  48             Timmy Jernigan, Florida State                               DT                                 Baltimore Ravens
2                  50             Jeremiah Attaochu, Georgia Tech                       DE                                 San Diego Chargers
3                  66             Morgan Moses, Virginia                                          T                                    Washington Redskins
3                  74             Jay Bromley, Syracuse                                             DT                                 N.Y. Giants
3                  79             Terrence Brooks, Florida State                             S                                    Baltimore Ravens
3                  80             Dexter McDougle, Maryland                                 CB                                 N.Y. Jets
3                  84             Kareem Martin, North Carolina                            DE                                 Arizona Cardinals
3                  93             Brandon Linder, Miami                                            G                                   Jacksonville Jaguars
3                  100           Brandon Thomas, Clemson                                    T                                    San Francisco 49ers