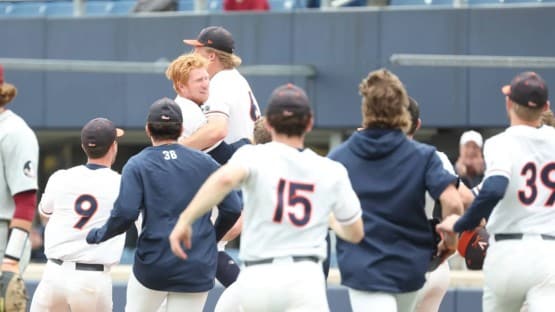 Virginia won its series opener with Florida State, 3-2, in 10 innings, by virtue of a rare walk-off error.
The eighth-ranked Cavaliers (20-2, 5-2 ACC) had to rally in the bottom of the ninth to send the game to extras. With two outs and nobody on, freshman Harrison Didawick worked a seven-pitch walk to get the tying run on base. He advanced to third on a Griff O'Ferrall single and subsequent FSU fielding error. Didawick then scored the tying run on a wild pitch to send the game into extra innings.
After closer Jay Woolfolk (2-0, 1.32 ERA) pitched around a leadoff walk to retire the side in the top of the 10th, UVA got things going in the bottom half with a one-out single by catcher Kyle Teel.
Ethan Anderson hit into a fielder's choice for the second out of the inning. Casey Saucke followed with a single to right that advanced Anderson to second.
Pinch-hitter Chris Baker was next. Baker hit a ground ball up the middle that was misplayed by FSU shortstop Jordan Carrion, allowing Anderson to score.
Virginia starting pitcher Nick Parker left the game in the top of the first inning when a line drive off the bat of three-hole hitter James Tibbs III hit him in the head.
Parker walked off the field under his own power.
Chase Hungate saved the day out of the bullpen, giving UVA five innings of two-hit shutout ball.
Woolfolk, the sixth Virginia pitcher of the day, walked one and struck out three in an inning and two-thirds of hitless relief.
First pitch for Game 2 on Saturday is set for 1 p.m. The Cavaliers will have righthander Brian Edgington (4-0) on the mound. Florida State has not announced a starting pitcher.