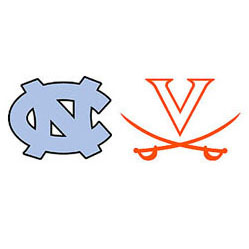 The UVa. men's lacrosse team continues its season as the Cavaliers (9-5, 1-4 ACC) head to Chester, Pa., to face the North Carolina Tar Heels (10-3, 2-3 ACC) on Saturday evening in the inaugural ACC Showcase Game at PPL Park. Faceoff is set for 7:30 p.m. UVa is ranked No. 8 in the USILA coaches poll and No. 10 in the Warrior/Inside Lacrosse media poll. North Carolina is ranked No. 6 in both polls.
ESPN3 will webcast the game live with Eamon McAnaney bringing the play-by-play, Quint Kessenich adding color analysis and Paul Carcaterra roaming the sidelines. Live stats of the game will be available at VirginiaSports.com.
Saturday marks the 78th all-time meeting between the Cavaliers and the Tar Heels, a series the Cavaliers own a 49-28 advantage in since 1938. In 2013 UVa and UNC met in the ACC Championship game at North Carolina's Kenan Stadium, a 16-13 win for the Tar Heels. Now the storied programs play in the inaugural ACC Showcase Game a year later after failing to qualify for the ACC Championship. Facing the Tar Heels every year since 1964, UVa has now faced UNC at least twice in a season for three straight years. After winning 19-of-21 meetings dating back to 1997, UVa has now dropped four consecutive against UNC since its 15-10 win at Fetzer Field during the 2012 regular season. UNC's four-game winning streak is the longest in the series for the Tar Heels since winning four straight during the 1990-92 seasons.
All-ACC honoree Mark Cockerton leads UVa with 41 goals, while James Pannell is No. 2 on the team with 36 scores. Cockerton is No. 4 in the nation in goals scored and Pannell is No. 8. Cockerton leads UVa with 53 points, which ranks No. 7 nationally. Ryan Tucker rounds out the top goal scorers with 21, while Owen Van Arsdale has a team-best 24 assists along with 34 points. Mick Parks leads UVa with 51 ground balls, while Scott McWilliams has 22 caused turnovers. Matt Barrett is saving 47.3 percent of shots between the pipes and is posting an 11.23 goals against average.
North Carolina head coach Joe Breschi is in his sixth season at North Carolina and returns 32 letterwinners from last year's 13-4 NCAA quarterfinal squad. Joey Sankey leads UNC with 30 goals and 22 assists for a team-best 52 points. Jimmy Bitter is second on the team with 26 goals and 33 points. Chad Tutton and Pat Foster round out UNC's top scorers with 22 and 16 goals, respectively. Kieran Burke is saving 57.3 percent of shots he is facing between the pipes and is posting an 8.13 goals against average.
After Saturday's game UVa enjoys a bye week before the NCAA Tournament commences. The NCAA Selection Show airs Sunday, May 4 live on ESPNU at 9 p.m. First-round games are played at home sites May 10-11. New in 2014 will be two play-in games to be played on May 7 on TBD campus sites. The play-in games will feature the four lowest-ranked automatic qualifying berth teams.