Giffords Law Center: Virginia gets 'D' grade for gun safety laws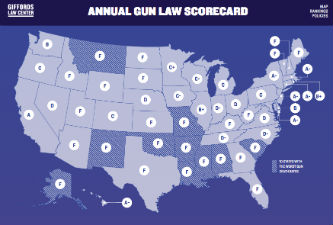 Giffords Law Center to Prevent Gun Violence released the latest edition of its Annual Gun Law Scorecard, which grades and ranks each state on the strength of its gun laws. This comprehensive, 50-state analysis clearly shows how stronger gun laws like background checks help reduce gun death rates and save lives. Virginia received a D due to its lack of comprehensive gun safety measures.
In 2017, Virginia was a battleground for gun safety advocates, who fought to defeat bills allowing campus carry and permitless carry. Like many other states, Virginia lacks fundamental gun safety measures including universal background checks, laws aimed at preventing gun trafficking, and urban gun violence prevention programs.
In fact, the scorecard shows that the majority of states could do more:
"Every day in our country, nearly 100 Americans die from gun violence. While this crisis is impacting families in every community in every state, we know its toll disproportionately hits states with weaker gun laws the hardest," said Robyn Thomas, executive director of Giffords Law Center to Prevent Gun Violence.
"Year after year, our research shows that states that get serious about passing stronger gun violence prevention laws have a much better chance of reducing the number of deaths linked to firearms. This scorecard should be a wake-up call to the half of the nation that has failing grades that they are on notice. The Gun Law Scorecard should inspire elected leaders, activists, and concerned citizens to take action."
The Annual Gun Law Scorecard makes clear that there is a significant opportunity to address the nation's gun violence epidemic if more states act. Since 2014 the gun death rate has been rising, with gun deaths jumping 8% from 2014 to 2015 and another 7% from 2015 to 2016.
That resulted in the deaths of 38,000 people in 2016—the deadliest year for gun deaths since 1993.