Gas price update from AAA: Prices continue to push lower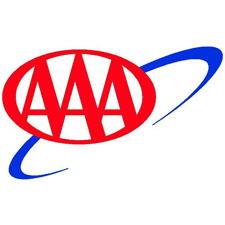 Today's national gas price average is $2.81, which is two cents cheaper than last week, eight cents less than last month and 13 cents less than last year, according to AAA.
With the exception of the Rockies states, Alaska and Indiana, motorists across the country are saving as much as 23 cents/gallon to fill up as compared to last month.
"Gas prices have been trending lower now for the past month and there are no signs of pump prices changing gears toward more expensive for the summer season," said Tammy Arnette, Senior Public Affairs Specialist for AAA.  "One major indicator supporting this forecast is the price of crude oil which last week dropped by $6 to $53/bbl, which is one of the lowest prices of the year."
How low will gas prices go? Stay tuned for AAA's 2019 summer forecast, which will be released later this week.
Quick Stats
The nation's top 10 least expensive markets are: Mississippi ($2.39), Louisiana ($2.39), Alabama ($2.41), South Carolina ($2.43), Arkansas ($2.46), Texas ($2.48), Tennessee ($2.48), Missouri ($2.53), Virginia ($2.54) and Oklahoma ($2.55).
The nation's top 10 largest monthly decreases are: Florida (-23 cents), Delaware (-16 cents), Georgia (-15 cents), California (-14 cents), North Carolina (-14 cents), Louisiana (-13 cents), Mississippi (-13 cents), Texas (-13 cents), Tennessee (-12 cents) and South Carolina (-11 cents).
Pump prices continue to push lower among all Mid-Atlantic and Northeast states and for a second week, all state averages are under $3/gallon. Pennsylvania ($2.95), Connecticut ($2.94), New York ($2.92) and Washington, D.C. ($2.89) carry the most expensive gas prices in the region. On the week, Delaware (-6 cents), Maryland (-5 cents), Tennessee (-4 cents) and Pennsylvania (-3 cents) saw the largest declines in the region and land on the top 10 list of largest changes in the country.
Comments