A front porch, a rainbow flag, and controversy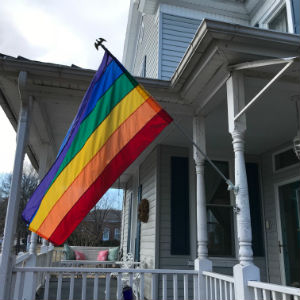 My wife and I learned a couple of weeks ago that the rainbow flag that we started flying on our front porch as our response to the Aug. 12 events in Charlottesville is so offensive to our social conservative next-door neighbor that he can no longer be friends with us.
I wish I was making this up.
We realized that we hadn't heard much from the neighbor for what seemed like maybe a few weeks, but that was nothing unusual.
Our dealings tended to be over matters like, hey, I'm leaving town for a few days, can you keep an eye on things, make sure nothing out of the ordinary is going on, that kind of thing.
Neighborly stuff. Nothing too outlandish. Their kids would occasionally come over to play with our dogs. We partnered on getting rid of some trees along our property line. Delivery people used to leave packages for them on our front porch, because one of their dogs has run of the property, with a silent fence, and he looks dangerous, and may have even bitten somebody, not sure, but I remember hearing that once, and anyway, if I was a delivery person, I'd take no chances.
Anyway. The flag. The missus and I thought about ways we could demonstrate our feelings about the world in the aftermath of the Aug. 12 white supremacist rallies in Charlottesville and decided against hanging the American flag that we've flown on the front porch for six years upside down, to show distress, thinking that would be a negative, if still accurate, reflection of our feelings, and to instead go positive with the rainbow flag.
The LGBT equality issue is one that has been big for us for a long time. Editorially, we made the call in AFP back in 2005, as Virginia was preparing to vote in 2006 on an amendment banning gay marriage, to take a stand on behalf of marriage equality, the possible impact on local advertising dollars in the conservative Valley be damned, and never looked back.
Having made our views on LGBT equality abundantly clear for more than a decade, the flag on the front porch seemed more ornamental than anything. It was almost as if it occurred to us, why didn't this occur to us years ago, to do this?
And the early response was so positive. We've had people knock on our front door to tell us they like the flag. One couple said they had just moved to Waynesboro a few months earlier, still didn't know the lay of the land, and when they saw the flag on our front porch, it was a good sign, that our community is welcoming.
And then, our neighbor. The flag is an effort on our part to impose our views on the world, he said. I'd argue that a flag on a porch on a residential street that maybe a few people see on a given day when they walk their dog is a little less imposing than writing on a website read by 10,000 people every day, but … whatever.
We're imposing our views on the world, and by the way, the neighbor points out that our little residential street has a church on the corner. Had we thought about how offensive our rainbow flag might be to the people going to church on Sundays?
Honestly, no, I hadn't. I assumed that people who think of themselves as Christian embrace all of God's children, that the matter had long since been settled, actually, that discrimination based on race, ethnicity, sexual orientation, what have you, was something that Christians would want to distance themselves from.
Since this blowup with the neighbor, I've told this story to several friends, and learned that several local churches are dividing over this very issue. One friend, who is LGBT, said her church had a big meeting this past weekend, and that she was a bit taken aback at the comments from some who clearly had no idea that at least one of the people they were demonizing was sitting right there with them.
Another said he and his wife had dissociated themselves from their church after a vote was taken to prohibit gay marriage ceremonies in the church building, even as the pastor made clear that he would still perform ceremonies outside the church.
I don't like to admit to naivety, but, yep, I had no clue that this flag was that controversial. When my wife and I were discussing what to do back after Aug. 12 and settled on the flag, it reminded me of the tone of the times back in 2008, when we took the reins of the local Democratic Party committee, during the first Barack Obama presidential campaign, and I fought an odd battle with the Obama campaign over yard signs.
The Obama kids running things from D.C. didn't place any importance on yard signs, and made it hard for us at the local level to get our hands on them to be able to give out to supporters. They said they preferred people to sign up to go door-to-door to just putting a sign in their yards.
My case to them was that in places like Waynesboro, simply putting an Obama sign in your front yard was an act of defiance, basically saying, hey, there are Democrats here.
I ended up getting a higher-up on the phone one day, and over the course of a 45-minute phone calls full of f-bombs back and forth and back again, made my case, to no avail, ultimately, until the Washington Post caught wind of a post on AFP, called me, wrote a story, and the Fairfax County Democrats came through and sold us 2,500 signs at cost for them, about 80 cents apiece.
We had to get at least a couple of refreshes to that original order, and the funny thing that I remember about that whole experience was how many people I'd see come by the party headquarters who'd say, I didn't realize there were this many Democrats in Waynesboro, until I saw all these signs out in front yards.
Which brings us back to today, and that flag. Even if we were trying to impose our beliefs on LGBT equality to you, we'd be perfectly within our rights, this being a supposedly free country and all, but our real aim isn't to get people to think a different way; rather, it's to say, it's OK for people to come out and say, we're there with you.
Our hope is that, like back in 2008, we see more rainbow flags on front porches in town, and it gets to a point where people say, I had no idea that there were this many LGBT supporters here, until I saw all those flags on front porches.
The response of my next-door neighbor is a sign that there's still a lot of work to do. The response of the local churches dividing themselves over LGBT equality is a sign that there's still a lot of work to do.
But the response of an LGBT friend who told me that she still hasn't come out to more than a select few friends and family because she fears the repercussions is why it's worth it.
People shouldn't have to fear being who they are, and it's the people like my neighbor who perpetuate that fear by trying to bully people into silence.
I may have the right to remain silent, but I don't have the ability.
We need more people with front porches to fly these flags, as the first of many, many steps.
In the meantime, the wife and I are discussing having a big painting weekend this spring. Just imagine: Waynesboro's first rainbow house.
Sorry to impose.
Column by Chris Graham