Politics
Fringe Democratic presidential challenger pushes Biden to recognize Palestine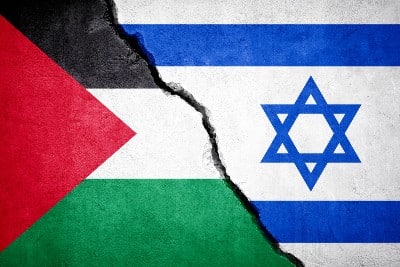 A Middle East expert who two weeks ago announced his candidacy for the 2024 Democratic Party presidential nomination is calling on President Biden to recognize the State of Palestine.
Jerome Segal isn't a political threat to Biden. A research scholar at the University of Maryland, Segal has mounted a series of quixotic runs at political office in recent years, most recently running in the crowded Democratic gubernatorial primary in Maryland, finishing a very distant ninth with less than 1 percent of the vote.
Segal brands his politics Bread and Roses Socialism, and claims a spiritual kinship to Vermont Sen. Bernie Sanders, "animated by the anti-war and social justice struggles of the 1960s," according to his campaign website.
He announced his 2024 candidacy on July 25, in the aftermath of what he termed "Biden's embarrassing trip to the Middle East," during which the president said the ground was "not ripe" to restart Israeli-Palestinian peace talks.
Segal issued a statement today pressing the president on the issue:
"Joe Biden is the first American President in almost half a century to turn his back on the quest for Israeli-Palestinian peace. On his recent visit to the Middle East, Biden said to the Palestinians, 'I know that the goal of the two-state [solution] seems far away… So even if the ground is not ripe at this moment to restart negotiations, the United States and my administration will not give up on trying to bring the Palestinians and the Israelis closer together.' This is truly pathetic, and to say it publicly to a moderate Palestinian President with the most tenuous hold on power, was simply, empty-headed.
"Biden said 'I know that the goal of the two-state [solution] seems far away…' — actually it need not be. The Palestinians issued a Declaration of Independence and proclaimed the State of Palestine in 1988. The State of Palestine is recognized today by 162 countries and is an Observer State at the U.N., not a full member only because of U.S. opposition.
"Biden, with an executive order, could tomorrow recognize Palestine and bring the two-state solution a giant step towards fruition.
"With US recognition, all of Western Europe would also follow. The Palestinian Authority would be dissolved, and the PLO would drop out of the picture. Very likely the State of Palestine would come to exercise sovereignty over Gaza, and Hamas, which is not part of the PLO, would recognize the legitimacy of the new State and compete for power within Palestinian democracy.
"Biden will no doubt object and say, 'Palestinian statehood is something that should emerge from negotiations. The United States can't grant the Palestinians something that they need to work out with the Israelis.' To which I say, 'What about Jerusalem? Donald Trump, outside of any negotiations recognized Jerusalem as Israel's capital. And you, Mr. President, have reaffirmed Trump's position. Why not balance it, with recognition of Palestine, an act that will give new life to the prospects for ending the conflict.'
"Moreover, Mr. President, when the Palestinians declared independence in 1988 they based the State of Palestine on the United Nations Partition Resolution of 1947, the very document cited in Israel's declaration of independence, and the Palestinians explicitly noted that the UN Resolution called for two states, one Arab and one Jewish."