EMU Early Learning Center teaches children – and future educators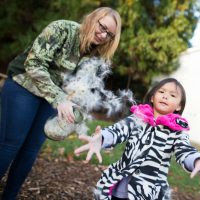 Free to pursue their interests, the seven two-year-olds spread about the room, some pushing toy cars and trucks across the floor, others shaping green playdough at a low table.
And at another table, early elementary education practicum student Kelsey Troyer led a lesson: Her own.
Eastern Mennonite University touts its Early Learning Center as a "child-centered, developmentally appropriate preschool program" whose "emergent" curriculum enables teachers "to be sensitive to the cues of the children and their interests."
But that's only part of the picture, because the ELC is also a place where EMU students gain real-world education experience.
Elementary education students studying classroom management and organization meet in the college classroom twice a week, but for their third session spend time at the ELC, located in Park View Mennonite Church just blocks from campus.
"You can imagine how this sparks classroom discussion and brings deeper understanding of the educational theories we study together," said instructor Bonnie Yoder. "I would not want to teach educational theory any other way."
While many education courses at EMU have a practicum component, the ELC is unique, as it is EMU's "very own lab school," Yoder said. This means that Yoder and ELC director Rachel Diener are "equally invested in student progress and learning. We are colleagues and co-teachers, and share philosophy and goals," Yoder said.
The lessons
The ELC experience challenges EMU students to think on their feet both responsively and proactively.
As students meandered to and from her table, Troyer invited one or two at a time to join in mixing blue and pink shaving cream on pieces of black paper.
Troyer had designed the lesson to help students explore what happens when colors are mixed, and to play with patterns. But with the ELC classroom's lead teacher Erin Williams taking notes and giving feedback, Troyer was the one learning.
"What could you do to help support her?" Williams asked Troyer when one student hesitated at delving into the shaving cream mess.
"Do you want a brush?" Troyer asked the child. "What happens when you put the paintbrush in there?" and, later, "What happens if you swirl it around on your paper?"
The little girl laughed as she mixed the colors.
"Do you still see pink and blue?" Troyer asked her. "Do you see purple?"
With shaving cream now up the girl's arms to her elbows and over the edges of the paper, Williams reflected for Troyer: "Maybe next time, use bigger paper," she said.
Later, Troyer said that's one of the things she's learning: to notice even during an activity about what works – or doesn't – so she can "modify the lesson to make it run smoothly for the next student."
She's also learning how to be careful with words.
"Instead of giving empty praise and saying 'good job,'" she said, "I've learned to give more specific feedback, like, 'Wow, I see you've covered your whole paper in paint.'"
Across the hall in the four-year-olds classroom, her classmate Cody Trumbo, too, was also teaching and learning.
He had prepared magazines, scissors and glue sticks on a nearby table for a collage-making project, and went to gather recruits from among a group of students huddled around the water play table.
"We're going to make a project today," he said. "Are you okay with that?"
"Umm, no," one honest student replied.
Diener stepped in with some advice for Trumbo, suggesting that he not ask permission but instead tell the students it is their turn.
"It's all about phrasing," he reflected later. It's called "polite command," and it has to be clear and not indicative of choice when there isn't any.
"This is tougher than one might imagine, simply because we are forced to stop and think through every phrase we say and translate it into ways that the children totally understand," he said. "I'm trying to get used to it."
What future teachers say
Trumbo said the types of things he and other practicum students are learning at the ELC are practical – like how to engage students with differing levels of motivation, or getting a sense of one's own teaching self in a real-life setting.
"This sort of opportunity is invaluable," he said. "It makes us feel more confident about the teachers we are becoming, and gives us an honest glimpse into what education can be like."
Diener said that "without exception," practicum students in their weekly reflections report growing comfort with interacting with the ELC students. By the end of each semester, she said, "I observe many positive gains in their self confidence and teaching skills."
In retrospect, too, past ELC practicum students – and there are over 500 of them, Diener said – value their time at ELC.
Alyssa Green, an EMU graduate who is now a kindergarten teacher in a nearby public school, said that her ELC experience taught her to be conscious of students' perceptions of her words and actions, and that simple language changes can promote student sharing and creativity. The ELC's emphasis on exploratory play, too, has shaped her instruction methods.
"It truly stuck with me that play is still so important for young kiddos!" she said recently.
Senior April Shinsky said that the flexible structure in the ELC's two-year-olds' classroom is freeing for the children – and was for her, too. "I loved being able to engage with the learners on their own terms," she said, "and having a real hands-on experience in what it means to truly design curriculum that meets the learners' developmental needs."
Victoria Messick, also a senior, said that the child-centered learning environment embodied what she had learned in coursework: letting learners guide themselves. "I recognized how important it is as a teacher to make meaningful connections between the child's lived experiences and learning," she said.
Appropriate foundation
The other students in the ELC – the children – benefit, too. Yoder said that her own daughter attended there when she was four, and is now a college freshman studying to be a teacher.
"As a parent, I was grateful for the strong developmentally appropriate foundation the ELC gave my daughter," Yoder said. "Her confidence soared that year."
Many students remain with the ELC for all of their three preschool years, and Diener, who has worked at the ELC since 1993 as an assistant teacher, teacher and then director, said that their daily engagement in the stimulating environment designed to meet their needs cultivates "thriving as they happily and busily learn about their world."
It's "a different kind of preschool," said Meg Hertzler, another EMU education student in the four-year-old classroom, where she had just read a book to students nestled in and around a clawfoot tub outfitted with pillows. "It's play and learn, not teach and learn."
The history
The ELC was founded in 1977, when EMU's education department saw the need in its program for the early childhood education students to work more closely in an early learning setting. The department wanted the students to have opportunities to observe and work with young children in a learning environment appropriate to their developmental needs.
The ELC curriculum is based on the Developmental Interaction Theory of child psychology, which "attempts to nurture the physical, emotional, mental, social, creative, and spiritual self of each child." Children are "developing human beings" and learn most easily by actual, unhurried involvement with people, activities and the environment. The curriculum changes and evolves in response to cues and suggestions from students.
That translates into a wide variety of experiences for the students, from cooking and woodworking, field trips, painting, cutting and pasting, music, puzzles, outdoor play even in the snow and writing. Even dress guidelines in the parent handbook promote students' engagement: "Their actions should not be inhibited by clothing."
"Despite current trends to move academics down into preschool," said Diener, "our mission of being a child centered, developmentally oriented program has remained the same since our founding."
Story by Christopher Clymer Kurtz