Denver Riggleman announces for Congress in Fifth District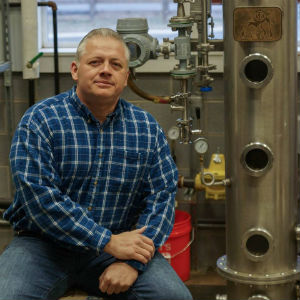 Nelson County businessman Denver Riggleman announced today that he is seeking the Republican nomination to replace Fifth District Congressman Tom Garrett.
Riggleman is the owner of Silverback Distillery and a former Air Force intelligence officer who mounted a campaign for the GOP nomination for governor in 2017.
Garrett, elected to the Fifth District seat in 2016, announced Monday that he will not seek re-election to the seat, citing a desire to battle with alcoholism.
Riggleman's statement:
"I am officially announcing my candidacy for the Republican nomination for the Fifth Congressional District. As a political outsider, veteran, small business owner, and grassroots conservative, I will bring a fresh perspective to DC and help pass the President's agenda. As we have all seen over the past few years, it takes a real outsider with real world experience to drag the swamp monsters to dry land. As a veteran and small business owner, I am perfectly suited for that task.
"I would like to thank Rep. Tom Garrett for his many years of public service as a Congressman, State Senator, and Commonwealth's Attorney. He and I have become close friends ever since I first signed up to be a delegate for him at the 2016 Fifth District Convention. Christine and I are sending prayers and best wishes to Tom and his family during this difficult time. Tom is a man of courage and a conviction, I look forward to continuing his pristine conservative voting record in D.C."
Comments