The meme coin sector has taken off like wildfire, and there's a standout coin that's causing a stir. It's the AiDoge ($AI), and it's being hailed as the hottest new thing in meme coins.
This amazing project is making a big splash in the crypto world and for a good reason. It's combining two of the most popular trends right now – AI and meme coins – which is pretty unique. And get this: it's already raised a jaw-dropping $5,493,746.43 and just recently raised over a million in a single day.
Several crypto experts are even saying that it could be the next big thing, like Pepe coin, Turbo, or $SPONGE. So let's dig a bit deeper and take a closer look at AiDoge ($AI).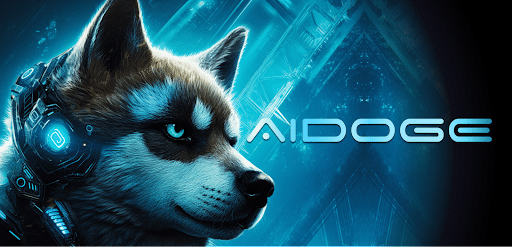 AiDoge ($AI): Combine Your Love for Memes with AI
AiDoge.com ($AI) is the new ultimate meme creation platform that's revolutionizing the game by using AI to create memes! By combining the two hottest trends on the internet right now – AI and memes – AiDoge ($AI) is creating a buzz that's hard to ignore. It's no wonder their presale is gaining steam and attracting a lot of attention!
Thanks to its cutting-edge AI algorithms trained on extensive meme datasets, AiDoge creates high-quality and relevant memes like no other platform out there. And the best part? You don't need any artistic skills! Just add text instructions, and the algorithm takes care of the rest.
But that's not all. You can earn even more $AI coins by staking your tokens and getting daily rewards. The more you stake, the more rewards you earn – it's that simple! Plus, staking is critical for the platform's long-term development and engagement, giving you access to all the features and voting options.
And the fun doesn't stop there – all meme creators can publish their creations on the public wall and compete for monthly rewards if their meme wins. So, not only can you create and share your memes with the world, but you can also potentially earn some extra in the process.
Meme Coins on the Rise: Can AiDoge Overtake Pepe and Turbo?
The rise of meme coins has captured everyone's attention, and it looks like they're here to stay. Despite the broader crypto market being in a bit of a slump right now, the meme coin wave could entice more traders.
Many coins have soared in recent months, including Pepe, Turbo, and $SPONGE, with Pepe soaring by over 7,000%! But AiDoge is making a strong move to become the top player. 
Although AiDoge is not trading yet, it's generating a lot of buzz, and the team expects it to be out of presale soon. When it starts trading, it's likely to join the elite group of new-wave meme coins.
What makes AiDoge stand out from the rest is its strong utility focus on AI technology. As more crypto investors flood into the AI sector, analysts predict that coins like AiDoge, with a strong focus on AI, are going to thrive.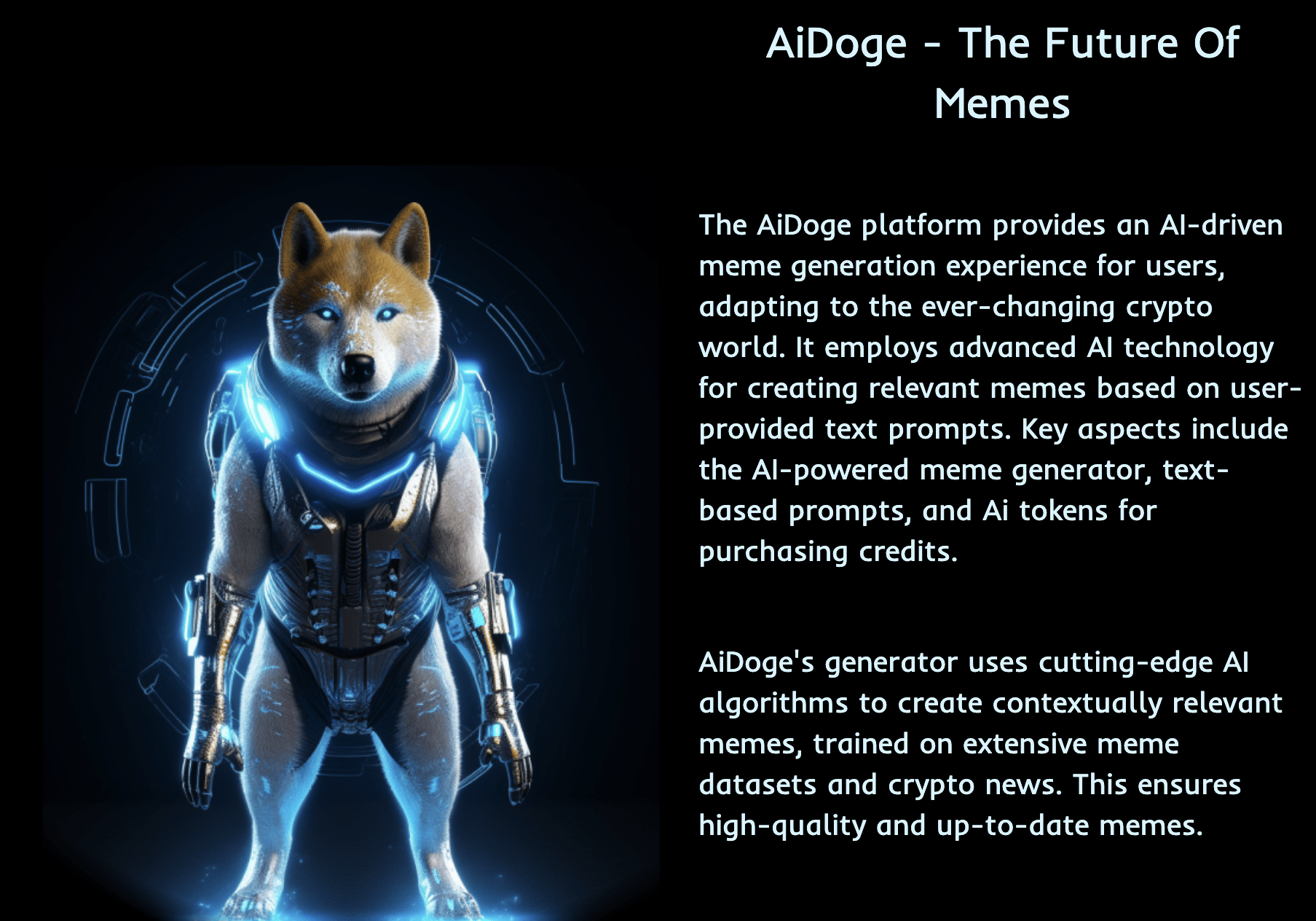 Grab Your $AI Tokens While You Can: AiDoge Presale Selling Out
AiDoge's presale is already underway and split into 20 stages, with the price of $AI increasing at each successive stage. If you want to get the most out of your investment, make sure to get in early.
The project has already raised an impressive $3.5 million in a matter of weeks, including 1  million in 24 hours, and with this kind of momentum, the presale is bound to sell out soon.
But don't be fooled by similar-sounding ArbDoge ($AIDOGE), which has recently pumped but has little to offer in terms of utility. The real winner is AiDoge ($AI) due to a stronger focus on utility.
Right now, you can get $AI tokens for just $0.000028 each, so act fast and jump on the bandwagon of this promising project that is generating a lot of hype around the AI sector.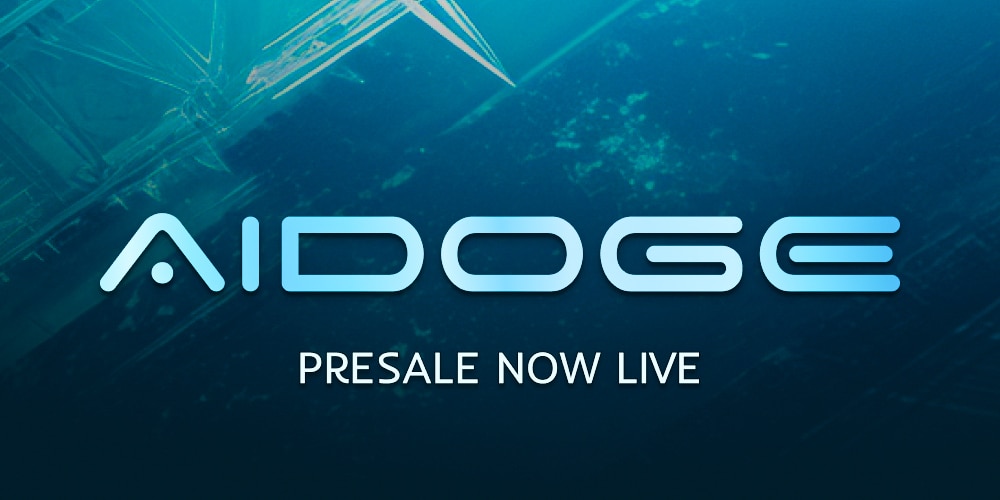 SpongeBob Token ($SPONGE): Another Popular Memecoin Taking the Crypto Market by Storm
Just like AiDoge, the SpongeBob token ($SPONGE) is another new meme coin that's gaining traction in the crypto market. Launched recently on the Uniswap DEX with no presale before its listing, this meme coin is becoming a popular alternative to Pepe and Turbo. It has seen significant growth since its launch and has caught the attention of traders looking for a cool coin.
SpongeBob token ($SPONGE) is winning over the hearts of many traders who grew up watching the beloved SpongeBob SquarePants show, which is one of the most-watched children's TV shows of all time. It's no coincidence that most crypto traders belong to the same age group as those who watched the show.
$SPONGE, much like other meme coins such as Pepe, doesn't put much emphasis on utility and instead focuses on generating hype. In just its first hour of trading, $SPONGE generated trading volumes of nearly $1 million, with buyers making up three-quarters of the market participants.
Investors are excited about $SPONGE's similarities to Pepecoin. Just like Pepe, the SpongeBob token is a fully community-driven project that derives its value from the iconic SpongeBob SquarePants show. $SPONGE bills itself as the "Krabby Patty of meme coins," a nod to the show's popular burger.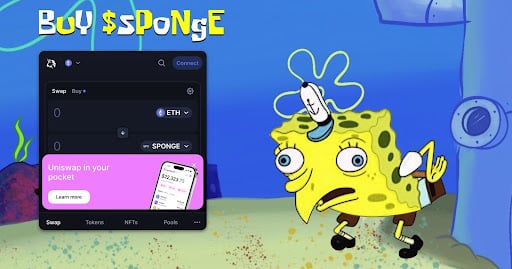 ($SPONGE) Surges 100% in 24 Hours While Pepe Flounders
One major advantage of $SPONGE over meme coins like Pepe is its token supply. While Pepe has a whopping 42 trillion tokens, $SPONGE has a more modest 40.4 billion. This makes $SPONGE a more attractive option for many traders.
Another factor that's making $SPONGE popular is its recent performance. In the past 24 hours, $SPONGE has surged almost 100% to $0.0011, while Pepe is on the downswing. But the real game-changer is liquidity.
$SPONGE's market cap has now reached $48 million, and its liquidity has also increased to over $11.56 million. This makes it safer and potentially more profitable to invest in $SPONGE than in Pepe, whose lower liquidity and market depth make whales more likely to crash the price. Check out DEXTools for $SPONGE's real-time metrics.

Conclusion
AiDoge ($AI) has a unique blend of AI and meme coins that offer tons of utility and other cool features, while the SpongeBob token ($SPONGE) is perfect for fans of the popular cartoon. With all the hype around meme coins these days, these two tokens definitely have the potential to become the next big players in the market.